Get ready for the time of your life as DSF begins today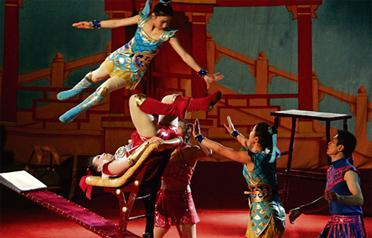 It's that time of the year again when people from all over the world flock to one of the best shopping destinations in the world – Dubai. Just in case you haven't caught on yet, the Dubai Shopping Festival 2010 (DSF) begins today.
Be sure to keep your social calendar absolutely free because DSF is not just about shopping, promotions, great deals, discounts, raffles and draws. It's all about the community, culture, having fun and learning about the UAE – all at the same time. The Dubai Events and Promotions Establishment (formerly DSF Office), which has 15 years of experience in holding the festival and making it such a big hit, has catered to all ages, cultures and tastes by organising a host of activities that will be held all over the emirate for the next 32 days.
Even though there are a bushel full of events to choose from, Emirates Business chose the top 15 for you so that you can mark them on your calendar. 
Fireworks
January 28 to February 28 @ Seef area – Dubai Creek
The firework displays have become synonymous with the festival since its inception. The 15th edition is no different with daily fireworks at the Seef area of Dubai Creek at 8.30pm. 
Blood Brothers Musical
January 28 to February 6 @ The First Group Theatre, Souk Madinat
Blood Brothers, the third longest running show on London's West End, is the critically acclaimed multiple award-winning musical about twin boys separated at birth but reunited by fate – with tragic consequences. This stunning tale set against the backdrop of an unforgiving industrial Liverpool is one of the most unique and best-loved musicals of the past 50 years. With Willy Russell's trademark comedy, mixed with epic drama, this funny and moving musical provides a performance of pure theatrical perfection. The production stars a brilliant cast of West End actors and thrilling live orchestra. 
Kavi Sammelan and Mushaira
January 28 @ Sheikh Rashid Auditorium, Indian High School
The Kavi Sammelan and Mushaira is a gathering of noted Hindi and Urdu poets from India and resident poets in the UAE. The event, which will be held at 9pm, is a much-awaited occasion in the Hindi literary circles in the UAE and witnesses the participation of eminent social and literary personalities. 
Carpet Oasis
January 28 to February 28 @ Dubai Airport Expo's West Hall
This is an exhibition and sale of some of the rarest, largest, and most unique carpets and rugs from around the world. Carpet Oasis is an attraction for those who have a penchant for not only carpets but culture and history. Spread across thousands of square metres, the exhibition features products from areas renowned for carpet-making such as Iran, Turkey, India, Pakistan, Afghanistan and Turkmenistan. Apart from carpets and rugs, handicrafts are also on display. The event is held from 10am to 10pm from Saturday to Thursday and from 4pm to 11.30pm on Fridays. 
Tamer Hosny
January 29 @ Media City
A heartthrob for millions of Arabs, Tamer Hosny comes to Dubai to perform his hit singles. A performer par excellence and a successful composer by all means, Tamer has a huge fan following amongst non-Arab speakers as well, so be there all you Hosny lovers.
 Jazz Fortnight
February 3 to 19 @ Various Venues
A unique destination for shopping, leisure, and entertainment, The Walk at JBR turns even more exciting during DSF. Highlights include the World of Jazz that will be held from February 3 to 9 as a prelude to the Skywards Dubai International Jazz Festival. Apart from the amazing shopping promotions, families will also find a fun fair and an inflatable zone. The Skywards Dubai International Jazz Festival, which will be held from February 10 to 19 at Dubai Media City, is one event that is a must-see for all jazz lovers as it brings local, regional and international jazz artists, such as James Morrison, together in a unique gathering. 
The Little Big Club Show
February 5 to 12 @ Dubai Airport Expo's East Hall
Coming to Dubai for a Middle East debut, the Little Big Club Show is the hottest children's attraction this DSF. Featuring 14 popular characters including Barney, Postman Pat, Fireman Sam, Bob the Builder, Angelina Ballerina and Pingu, the event promises an exciting journey into the world of cartoon theatre through spectacular stage backdrops, songs, and narratives. There will be two shows each day. One will be at 4pm and the other at 8pm.
Gulf Bike Festival
February 4 to 6 @ Dubai Festival City
Every year, during the Gulf Bike Week, bikers from all over the region come down to Dubai to celebrate their love for everything on two wheels in a festive atmosphere. The event provides a perfect lifestyle environment for music fans, sports enthusiasts and thrill seekers of all nationalities and ages. International acts performing during this year's edition include Nickelback and Status Quo. 
Nickelback
February 5 @ Dubai Festival City
The Grammy award nominated Canadian rock band, Nickelback is one of the most commercially successful Canadian groups, having sold 30 million records worldwide. Nickelback ranks as the 11th best selling music act of the noughties, and is the second best-selling foreign act in the US behind the Beatles. The group will perform as part of the Gulf Bike Festival. 
Status Quo
February 6 @ Dubai Festival City
Status Quo, the English rock band that has recorded more than 60 chart hits in the UK, more than any other rock group in history, is coming to Dubai for a memorable performance as part of the Gulf Bike Festival. So this is a must-see for all rock lovers. 
The Biggest Biryani Bowl
February 12@ Global Village
If you are a foodie, then don't miss this one. The Biggest Biryani Bowl will be cooked up by expert chefs at Global Village. You can watch the experts cooking biryani in the huge biryani bowl, which will weigh approximately 2.5 tonnes and will include 1,200kg of rice, 48kg of spices, 155 litres of oil, 320 litres of yoghurt and hundreds of kilos of mutton. It will be just in time for dinner with the tasty dish being cooked from 6.30pm to 9.30pm. 
Sunidhi Chauhan
February 18 @ Madinat Arena at Souk Madinat
Sunidhi Chauhan, best known for her Bollywood songs, will perform at 9.30pm. Credited with more than 2,000 songs, Chauhan began to sing at the age of four, and was discovered by a TV anchor. She won recognition through a televised singing contest, Meri Awaz Suno, which she won, and made her entrance into playback singing with Shastra. She has won numerous awards and is considered one of the most versatile singers in the Indian music industry today. 
Ben 10
February 19 to 26@ Dubai Airport Expo's East Hall
This one is for older children and is coming to Dubai after wooing millions of children on television. The popular teenaged superhero Ben 10 is coming with an entirely new production and a premiere titled The Power of the Omnitrix – a combination of Ben 10 Classic and Ben 10 Alien Force. Watch Ben, Grandpa Max, and Gwen in another thrilling adventure. Additionally, watch two new aliens, Squids and Rocks, make their debut as they join superheroes Four Arms, Wildmutt and Heatblast, and menacing villains Vilgax and HighBreed Commander in a 90-minute theatrical extravaganza, which will be held at 4pm and 7pm. 
Chinese Variety Shows
February 22 to 28 @ Wafi
The event showcases highly talented contortionists from China State Circus executing acrobatic and balancing skills, including foot balancing, where performers rapidly spin and flip umbrellas from one toe to the other on its open revolving rim. The show also contains famous Chinese acts, including a hat juggling duo and mystical face changing performer. With some of these acts more than 300 years old, this is a chance to enjoy some genuine Chinese culture from 6pm to 10pm.
Falconry
January 28 to February 28 @ The Walk, JBR
If you are fascinated by falcons and have always cherished a desire to get up close and personal with these beautiful birds of prey, here is your chance. All you have to do is head for The Walk at JBR between 5pm and 10pm and you will have a chance to interact with the handlers of these majestic birds and their birds.
Keep up with the latest business news from the region with the Emirates Business 24|7 daily newsletter. To subscribe to the newsletter, please click here.
Follow Emirates 24|7 on Google News.