Get ready to rock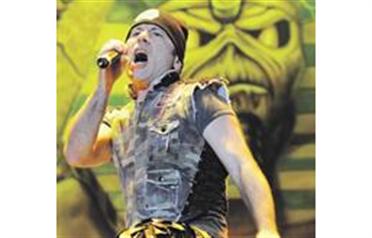 Iron Maiden @ Dubai Media City

Following the huge success of last year's Somewhere Back in Time World Tour, metal manics Iron Maiden hit the road once again for the fourth and final leg of their tour, kicking off this weekend in Dubai.

When? Friday, February 13

Time: Doors open at 4pm; performance starts at 9pm

Tickets: Dh295 and Dh595

So just how big are they?

Iron Maiden are absolutely massive in the heavy metal world. The band – currently comprising Steve Harris, Dave Murray, Nicko McBrain, Bruce Dickinson, Adrian Smith and Janick Gers – has been in action since 1975.

Are there any signs of them slowing down? Judging by their performance at Dubai Desert Rock in 2007 – where they clearly stole the show – the answer is not anytime soon.

What can we expect from the band this week?

For hardcore Maiden fans, this gig will be a real treat. The show will revisit the band's history by focusing almost entirely on the 1980s in the choice of songs played and the stage set, which is based around the legendary Egyptian production of the 1984-85 Powerslave Tour (featured on the band's recent DVD, Live After Death). This is arguably the most elaborate and spectacular show the band will have ever presented in the region. The venue's capacity is 10,000 people, so expect an experience.

Will there be a support act?

Yes, the band will keep it in the family with Steve's daughter, Lauren Harris, and her band performing first.

Is the concert a value for money?

There are two ticket categories, with the Dh595 stub allowing access to the front of the stage.

With promoters AEG Live confirming the band will be performing for more than two hours, we predict it will cost the average concertgoer approximately Dh2.46 per minute.

We give this two thumbs up.

Call: 800 4669
Fatboy Slim  @ Barasti, Le Meridien Mina Seyahi
The superstar DJ arrives in the Middle East for his first and only gig in the region as part of Dubai Shopping Festival 2009.
When? Wednesday, February 11
Time: Doors open at 6pm and the DJ goes on at 9pm
Tickets: Dh350
So just how big is he?
Fatboy Slim (real name Norman Quentin Cook) is one of the biggest DJs to come out of the United Kingdom. So far, he's sold around eight million albums worldwide, thanks to fantastic output such as You've Come a Long Way Baby, Halfway Between the Gutter and the Stars, and Palookaville.
What can we expect from him this week?
Organisers are keeping quiet about his set list. However, considering this will be the first international act Barasti is hosting, expect it to be pretty awesome – great weather, a beachfront venue and top tunes.
We're secretly hoping for The Rockafeller Skank, Gangster Trippin', Praise You and Weapon of Choice.        
Also, considering the venue can only host 3,500 music lovers, this will be the hottest ticket since Atlantis The Palm's launch party last year.
Will there be a support act?
DJs Christian and Greg on the bongos, Cafe Del Mar's Cathy Battistessa, Charl Chaka and Da:Funct will be providing the entertainment when Fatboy's not at the decks.
Is the concert a value for money?
Promoters Live Nation Middle East have restricted tickets to one category, which is great in these credit crunch times.
With the promoter confirming the DJ will be in action for two hours, we predict it will cost the average music fan around Dh3 per minute.
Not cheap, but good value for money, considering the full line-up.
For those really wanting to splash out, there's a VIP deal, which will get you a table for 10 people with selected drinks for the grand price of Dh10,000.
That's Dh1,000 per person. Ouch.
Call: 800 4669
Shaggy @ Dubai Festival City
Mr Boombastic himself, aka Shaggy, returns to Dubai for his first appearance in the region since 2007.
When? Thursday, February 12
Time: Doors open at 3.30pm, and Shaggy takes to the stage at 8pm
Tickets: Dh125, Dh250, Dh450 and Dh1,000
So just how big is he?
Shaggy is one of the very few reggae singers who has an impressive eight albums to his name, including the massive hits Boombastic and Hot Shot.
What can we expect from him this week?
In an interview with Emirates Business, the 40-year-old singer revealed he has not quite decided what the set list will be. However, expect plenty of hits, including It Wasn't Me, Angel and Boombastic, as well as tunes from his 2007 hit record, Intoxication. The venue can accommodate 20,000 fans.
Will there be a support act?
US hip-hop artist Tobias will be opening for Shaggy, with DJs Cowboy and Bliss providing the entertainment in-between sets.
Is the concert a value for money?
Promoters Loud and Live Events are offering four ticket categories, with Dh1,000 VIP entry including an exclusive meet-and-greet.
For those only interested in attending the concert, Shaggy will be on stage for around 60 to 90 minutes, costing the average concertgoer Dh1.40 per minute. Fantastic.
Call: 800 4669 or 050 113 3414
Follow Emirates 24|7 on Google News.