Globes win points to Oscars for Avatar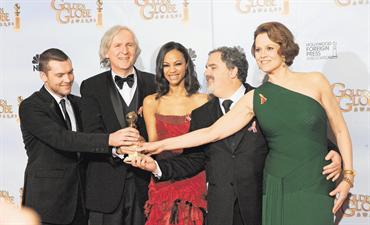 Sci-fi is finally getting respect, James Cameron said after Avatar won Golden Globes for best picture and director Sunday.

"You have a genre that is critically treated like a second-class citizen," the filmmaker said, noting that the only other sci-fi film in the 59-year history of the Golden Globes to win the prize for best picture was 1982's ET.

"Hopefully, this will spark a trend of sci-fi movies that are seen as legitimate dramas," he said.

And with the Oscars looming – Academy members must turn in their ballots on Saturday ahead of the February 2 nominations announcement – Avatar's prospects are looking formidable in the wake of its key Golden Globe wins on Sunday.

The Globes provided part of the momentum that propelled Cameron's last dramatic feature, the sweeping, romantic drama Titanic, to Oscar glory a decade ago. (Titanic took home four Globes, including score and song, to Avatar's two, for picture and director.)

But while Titanic was the kind of movie that older Academy voters have shown love for over the years, science-fiction is a category of movies rarely nominated in Oscar's topline categories.

Its validation from the Globes is, however, likely to propel the blue people toward Oscar gold. It will almost certainly be one of the 10 best picture nominees; Cameron, already a Directors Guild of America nominee, should be a directing nominee; and plenty of technical nominations are assured.

Its biggest weakness is sure to be in the acting categories, even though Cameron took time on Sunday to praise the movie's actors.

But Cameron also used the win to speak on various topics. "I have a bit of a pulpit," he said at one point and took on those critics who called his film "anti-military". He said the film is about "the anti-inappropriate use of military force."

Cameron also said critics should not look at the nemesis but at its lead character if they want to see the values of the filmmaker.

"Everything about [Jake] celebrates the American Marine Corps and its value system. He evinces the qualities the American Marine Corps teaches its men and women, to adapt to the local culture."

Continuing on the military theme, he said he believes in a strong military, "But we have to open our eyes. We have to look when political leaders put in these men and women on the ground for wrong reasons. And I'm not talking about recent history, I'm talking about human history."

Finally catching himself, he said, "This is a celebratory night and I probably shouldn't go off on this."

Meanwhile, The Hurt Locker, which has been riding a wave of critics' awards, hit a speed bump as a result of its Globes shut-out. While it is still likely to be an Oscar best picture nominee, it faces an uphill battle to take home the top award.

And Up in the Air, which led the field with six Globe nominations, had to settle for just one win: the screenplay nod to Jason Reitman and Sheldon Turner. While it's still expected to figure in lots of Oscar categories, winning gold is another thing.

Things do look good for several other contenders: the two best supporting actor winners, Mo'Nique in Precious and Christoph Waltz in Inglourious Basterds as well as the best foreign-language picture winner The White Ribbon.

And the wins for Disney/ Pixar's hit Up for best animated film and its musical score add to its inevitable nomination for best animated film and will fuel speculation it will also be nommed for best picture.

Among performers, both Jeff Bridges, for Crazy Heart, and Sandra Bullock, for The Blind Side, got a boost – the popular actress should get her first Oscar nomination after years of being ignored.

The Globes comedy category does not often contribute as much to Oscar recognition. The Hangover remains a longshot and Robert Downey Jr probably will not make it into the best actor circle for Sherlock Holmes. However, Meryl Streep, rewarded for Julie & Julia, is looking like she's positioned to secure a nomination.


Women's issues

Backstage, Meryl Streep and Sandra Bullock spoke of the pressures of being a top actress now.

Having risen to stardom in an internet-less age, Streep, winner for Julie & Julia, said she feels some pity for today's actresses.

"It was easier when I was coming up. There was no such thing as a 24-hour news cycle," she said, with a blogosphere commenting on appearance and weight. "It always happened, sure, but in parties, in restaurants. Now it's a relentless drag."

That negative attention interferes with the ability to be a good actor, because preparing for a role requires shutting out the world, she said. One way not to get caught in that "vortex" was not to Google yourself.

Bullock, a winner for The Blind Side, said the dearth of female roles in Hollywood, while still there, has ameliorated.

"It's gotten so much better. Two great successes for me were written by men. If you write it, they will come. Women do pull in some money and we do go to the theatre."
Keep up with the latest business news from the region with the Emirates Business 24|7 daily newsletter. To subscribe to the newsletter, please click here.
Follow Emirates 24|7 on Google News.