Grannies stage a rescue act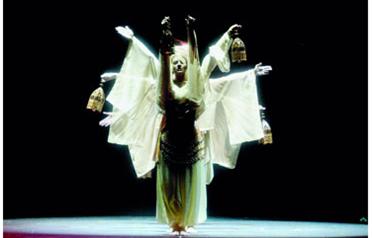 Dubai's theatre enthusiasts heaved a collective sigh of relief last night as Freej Folkore shook the city's foundations and reminded us yet again that in the times of an economic downturn the entertainment quotient still stands strong.

In a spectacular display of 3D special effects, combined with live-action and animation, audiences sat enraptured as they set sail with Sindbad on his voyage of discovery; followed in the footsteps of Arabian explorer Ibn Battuta; and wished upon a star with Aladdin and his genie.

The show, English and Arabic versions of which run until January 17 at the Madinat Arena, cost an estimated Dh20 million. The theatrical production is the brainchild of Freej creator and Lammtara director Mohammed Saeed Harib, along with executive producer Benjamin Monie, co-founder and managing director of production company JBM.

Barely a few days ago, such an extravagant creation seemed impossible as Emirates Business was provided all-stage access during the rehearsals. But even in the chaotic surroundings, the duo's confidence didn't waver.

"This is the largest-ever theatrical production witnessed in this region and we've taken a big gamble hoping audiences will appreciate this historical moment," said Harib. "Freej is a well-known brand here, thanks to a successful TV series and merchandising, but local audiences are more prone to spend money on a movie rather than a stage show."

If such is the case, why will Freej Folklore change that attitude? "We have adopted high-definition animation, used only by Dreamworks and Pixar studios," explained Monie. "Imagine an artistic form that blends live-action with 2D animated motion graphics for stage. The best way to describe this is a visual theatre that relies as much on holographic imagery as it does on real people. There will be points in the show where you will probably be wondering, is this real or reel imagery."

Two years in the making and a crew that comprises 25 production heads, 70 animators, 100 artists and another 100 backstage help, the two partners have left no stone unturned to ensure this one-and-a-half-hour spectacle is a resounding success.

Ask about the cost of staging an event of such magnitude and both Harib and Monie pause for a moment. "Without disclosing the exact amount, I will admit that producing a full season of the Freej TV show costs me between Dh8m and Dh10m. Folklore is four times that," stated Harib.

However, Monie was quick to jump in and amend the production budget. "It's not four times, but twice the cost of a Freej season. But that, of course, does not include the marketing expenses."

The duo revealed the funding was secured nearly two years ago – well before the credit crunch crippled the world economy. Neither is shy to admit such a feat would not have been possible today, keeping the current economic climate in mind. "There's no question about it," came Harib's laughing response. "No one would have easily forked out cash for such an experimental and extravagant stage show had we gone with a proposal today. We just got lucky with our timing I guess."

And even with a total of 19 shows stretched out over nine days, Harib hardly seemed worried about losing revenue if audiences decide to tighten their purse strings in the new year. "I am confident that even if we fill just one seat at every performance, we will still recover our costs, thanks to our sponsors. But it would be tragic if people miss out on this form of edutainment, especially young children," he said.

Freej Folklore has been divided up in seven acts, which together, form a single epic voyage for the four old women at its centre – Um Saeed, Um Khammas, Um Saloom and Um Alawi – who travel through space and time to uncover the many myths and legends of Arabia.

"The grandmas encounter a tree of knowledge, which takes them on a journey that starts in a magical cave, moves on to Ibn Battuta's travels of China, India and the Ottoman Empire and ends with a UAE sequence that serves as a flashback to the pearl diving days, all the way to present day Dubai," explains Monie.

Rumour has it that Harib himself makes a cameo on stage when the cranky foursome get stuck in the story and require the assistance of their creator to guide them home. Ask the creator and he doesn't confirm or deny the assessment, merely saying: "It's something like that, but you have to watch the show to understand more."

After Dubai, a GCC tour seems the natural progression but both Harib and Monie prefer waiting it out before committing to take Freej Folklore on the road.

"Of course, we want to take the show international, but we need to see if a demand exists and how economically viable this is in the current global climate," says Harib. "And why stop at just GCC; we want to take it to the UK or even the US, but we need to be practical."

Since its debut on television in 2006, the Freej cartoon has expanded into a successful brand. The merchandising itself has expanded into 200 different lines in the market, including chocolates, water, juices and perfumes.

Last May, the brand took another leap forward when a Freej theme park in Dubailand was announced for 2012. Harib hopes the project is still on track with an assessment study planned once the curtains fall on Freej Folklore.

So while we wait nearly four years for the theme park to open its doors, it seems just the right time to squeeze in the much-awaited Freej movie. Suggest that to Harib and he simply laughs, saying: "I'm not saying it won't happen, but Freej is not a Disney production that will guarantee us an international cinema audience. We have to first generate enough publicity in the Middle East and then take the grandmas on a world tour."
Did you know?

Some fast facts on Freej Folklore:

-The show features three live horses and two falcons on stage

-The soundtrack was recorded in London's Pinewood Studios, the same place where James Bond scores have been mixed

-Famed Arab singer and composer, Ibrahim Juma, has contributed to Freej Folklore's musical score

-A Bollywood item dance is also featured in the show

-Freej creator Mohammed Saeed Harib is set for a cameo on stage
Follow Emirates 24|7 on Google News.