Hollywood remake that hasn't learned from predecessor's errors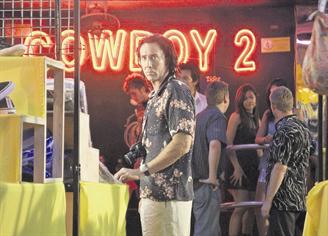 Just when we thought Nicolas Cage couldn't hit a career low after Ghost Rider, along comes Bangkok Dangerous – a film so silly it seems even the writers gave up on the plot, thus sealing its doom.

Ruthless hit man Joe London (Cage) flies to Bangkok at the behest of crime boss Surat (Nirattisai Kaljaruek) for his last ever job: To eliminate four gangland and political enemies, including the minister of the interior.

While scouting the crime-riddled streets, Joe hires pickpocket Kong (Shahkrit Yamnarm) as an errand boy, intending to kill the punk once the contract is complete.

However, the usually cold and aloof Joe forges an emotional bond with Kong and reluctantly embraces the role of mentor, tutoring the pickpocket in hand-to-hand combat and gunplay.

While Kong falls under the spell of exotic dancer Aom (Panward Hemmanee), Joe's heart is unexpectedly stolen by deaf mute pharmacist Fon (Charlie Young). This tender romance leaves the assassin dangerously exposed.

The English language remake of Bangkok Dangerous flows like a Bollywood ham from the 1980s. It plods in the numerous action sequences and relies on the directorial brio of brothers Oxide and Danny Pang to compensate for paltry character development and linear plotting – the same flaws which afflicted the 1999 version. Someone clearly forgot to read the reviews.

A centrepiece chase through the Damnoen Saduak Floating Market on long-tailed wooden boats then a motorcycle feels surprisingly sluggish, but does end with a snazzy underwater shot of the assassination.

Cage plays his part with utmost seriousness, aside from one brief flash of droll humour when he asks the pickpocket his name and double takes, "Kong?"

Yamnarm exudes roguish charm in an underwritten role but is sidelined for the entire finale.

The romance with the luminous Young teeters awkwardly on the verge of laughable, with Cage making puppy dog eyes in a way that would be creepy if it weren't so pathetic. But what else can we expect from a man who signed on films like Next, The Wicker Man and the painful Ghost Rider.

So while we wait for the latter film's sequel, fans can make do with this DVD, with extras including a 'Making Of' featurette and an alternative ending.
Follow Emirates 24|7 on Google News.