How the dream crumbled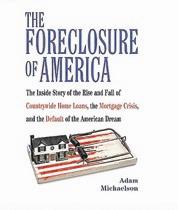 Now that Countrywide Financial Corp is best known for lending excesses that led to widespread mortgage defaults and home foreclosures, it's easy to forget the company used to epitomise home ownership and upward mobility.

In The Foreclosure of America (Berkley), former Countrywide Senior Vice President Adam Michaelson has chronicled his time at the one-time top US mortgage lender, from his hiring in 2003 during the housing boom to his layoff in late 2006, when the market showed signs of imploding.

Despite the book's wide-ranging subtitle – The Inside Story of the Rise and Fall of Countrywide Home Loans, the Mortgage Crisis, and the Default of the American Dream – Michaelson sheds little light on what was going on with the movers and shakers at the company.

As a midlevel executive in charge of marketing for various operations, the author only met Countrywide founder and Chief Executive Angelo Mozilo a couple of times. And he has disguised the identities of some of his co-workers and superiors.

But Michaelson did witness the summer 2004 birth of Countrywide's controversial PayOption loan plan, which allowed borrowers to make below-minimum monthly payments in exchange for taking on additional principal.

With home prices having nowhere to go but up, borrowers could simply keep refinancing, the presenter said at the meeting in a nuclear-proof underground bunker known as the Vault.

"Are you nuts?" Michaelson says he asked the group. Still, that was back when profits were growing, employees were happy and the company was enjoying a pristine image.

"Countrywide proudly proclaimed, and most of its employees felt, including me, that we were doing something most noble and important for America," Michaelson writes.

Workers used the name of the company as a complimentary adjective (as in calling someone "very Countrywide"). And Michaelson says the brand was so well regarded that he once suggested developing a line of "Countrywide-esque" homes, faucets and carpets.

"We had class," Michaelson writes. "We were friendly, approachable, helpful, conservative, nice neighbours. And only a friend like that could attain the trust you need to help you with your pursuit of the American Dream."

The staff worked hard to sell that dream, doing at least 10-hour days. Prized traits were "velocity" and "fire in the belly" – "an odd mix of 'don't put off 'til tomorrow what you can do today' and 'if you ain't runnin', then you don't have enough to do'," Michaelson writes.

"I wonder if the human resources cheerleaders who created those phrases truly knew that someday the money, and the opportunity, and the reign of Countrywide would end."

At the same time, Countrywide, like many corporations, was guilty of wasting time and money on executive retreats, he says.

On a more sombre note, the book contains interviews with borrowers who ended up in foreclosure.

Easy lending practices were only part of the problem, Michaelson says, adding that he never witnessed any wrongdoing at Countrywide, which is now part of Bank of America Corp.

"This will not be a salacious 'tell-all'," he writes. "In fact, I don't even need any confidential information to tell this true, dramatic story of the behaviour of corporate people, and the moral conflicts they faced from within a bubble."
Follow Emirates 24|7 on Google News.