In Berlin, directors seek to start dialogue on Islam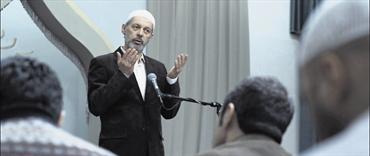 Terrorism, honour killings, fundamentalism and female oppression. The themes of films in the Berlin festival line-up this year could read like a series of banner headlines from Fox News.
But instead of sensationalism and stereotypes, what competition films such as On the Path and Shahada, Panorama title When We Leave and Berlinale Special entry My Name Is Khan offer are new images of Islam.

"It has taken nearly 10 years after 9/11, but these issues are finally going from the headlines into cinemas," Shahada director Burhan Qurbani said. "These are things we have to talk about."

In Shahada (or Faith), three very different Muslims living in Germany struggle with their religious and cultural identities. The film looks at the difficulty of being Muslim in a majority-Christian culture.

"I learned the Lord's Prayer before I learned (Islam's central prayer) the Fatiha," said the German-raised Qurbani, whose family is Afghan. "Partly, the film is about the contradictions in both cultures, about living in a culture to which one does not really belong. The twisting of identity."

Qurbani has experienced this "twisting" firsthand.

"The media clichés are so strong," he said. "I mean, I'm a Muslim and even I'm suspicious of Muslims. We are so lazy in just adapting the media's bits and bytes. So comfortable in our fear of this culture that we don't research and we don't ask questions. For me, my film is an attempt to engage with Islam and start a dialogue."

Getting people talking was also the goal of Indian superstar Shah Rukh Khan, who was in Berlin with My Name Is Khan. Instead of the actor's usual extravaganza, the film concerns a man arrested at Newark airport and interrogated because of his Muslim-sounding name.

In On the Path, director Jasmila Zbanic explores the trend towards fundamentalism in her native Bosnia. Liberal young Muslim Luna begins to question her love for her husband, Amar, when he abandons his hard-drinking ways and finds solace in the conservative Wahhabi sect. As with Shahada, Zbanic's film peers deeper to find the real people behind the sensationalist headlines.

But perhaps the most surprising film dealing with hot-button Islamic issues in Berlin is When We Leave, from Austrian first-timer Feo Aladag, which stars Sibel Kekilli in a comeback performance. She plays Umay, a German-Turkish woman whose father decides to have her killed after her decision to leave her husband leads the community to shun their family. As the film makes clear, "honour killings", portrayed in the Western media as expressions of Islamic fundamentalism, have little to do with religious ideology.

"Honour killings are a lot older than Islam, than any religion,'"Aladag said. "There's nothing in the Quran on them. Calling them Islamic is a misuse of the religion." (Reuters)
Keep up with the latest business news from the region with the Emirates Business 24|7 daily newsletter. To subscribe to the newsletter, please click here.
Follow Emirates 24|7 on Google News.