In Italy, art hospital rescues quake-damaged pieces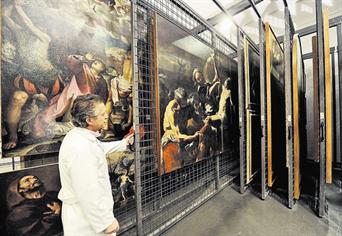 Art restorers delicately suture together gashes in a priceless painting of the Virgin Mary cradling the dead body of Jesus, one of hundreds of works of art damaged by an earthquake in central Italy last year.

Looking for all the world like doctors in their white coats and rubber gloves, they lean over the 17th-century Pieta at what has become known as the "Madonna hospital" near L'Aquila, the epicentre of the April 6, 2009, quake that claimed more than 300 lives. "This way we stabilise the deep cracks caused by the earthquake and stop them getting worse," said Alessandro Verrocchia, whose equipment includes a syringe to inject glue without disturbing the pigments.

"Nine months on, we are still at the stage of emergency relief," said Verrocchia's colleague Gianfranco Quintiliani. The site in Celano, a 10-minute drive from L'Aquila, serves both as a clinic and a warehouse for some 1,000 pieces of art rescued from the earthquake zone, half of them with some degree of damage.

Most pieces are religious art from the region's myriad churches. Elisabetta Deltosto, whose family lost their home in the earthquake, said L'Aquila's churchgoers were "very saddened" by the damage to centuries-old churches – and their contents – in the medieval walled city's centre.

"My mother has been going to San Bernardino since she was a child," Deltosto said, referring to a 15th-century church whose dome collapsed in the quake.

"The older people prefer the churches in the centre city because they are older and more monumental," she said. "Now they are in the red zone and inaccessible."

Some of the works of religious art were trapped in the rubble for days or weeks and were further damaged by rainwater seeping through, causing serious "biological harm", said art restorer Stefania Montanaro. "Many pieces need just a dusting, while others are so damaged they could take up to 10 years to fix," said the 54-year-old with intense blue eyes. Patience is a virtue for Montanaro, who has worked as an art restorer for 30 years.

"The work doesn't have a specific time frame. You take the time you need. There are lots of things to take into consideration – the trauma of the earthquake but also previous restorations, the material and the work's external environment," she added.

Awaiting attention in the storage area, crucifixes with centuries-old wooden sculptures of a bleeding Jesus Christ appear eerily at rest on the floor, one with his crown of thorns by his feet. Several sculptures of the Virgin Mary with the Christ child have suffered varying degrees of damage.

"There's a lot, really a lot, to do," said Quintiliani, who at 56 does not expect to see the completion of the work before he retires. "We worked day and night for the first three months," he said, joking: "My wife almost divorced me."

Selected works have already gone on tour in the area, and a temporary exhibition space is under construction at a former slaughterhouse to display the undamaged works and, eventually, the newly restored pieces until they can return to their home churches, he said.

Some are unlikely to "go home", however, notably works from L'Aquila's Spanish Fort, which was half reduced to rubble in the earthquake.

Curiously unscathed among items recovered from St Mary of Suffrage church in L'Aquila is a statue of Saint Emydius, to whom people pray for protection against earthquakes.
Keep up with the latest business news from the region with the Emirates Business 24|7 daily newsletter. To subscribe to the newsletter, please click here.
Follow Emirates 24|7 on Google News.