India on a mission to save the past for future generation book lovers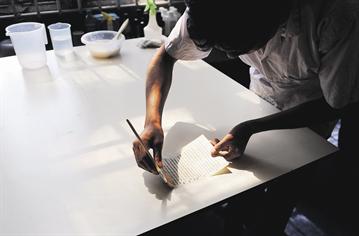 In the basement of the University of Mumbai's Fort Campus library, a towering Gothic-style cathedral to knowledge built by the British in the mid-19th century, half-a-dozen people are hard at work.

Some are hunched over computers and a state-of-the-art scanner. Others busy themselves in an air-conditioned laboratory, surrounded by fumigation units, bell jars of chemicals, trays of clear liquids and metal drying racks. This is the institution's rare books restoration project, which aims to return ancient and hard-to-find works to their former glory, so future scholars can learn from those of the past.

Everyone involved shares the same enthusiasm for the task – making damaged books fit for another 100 years. "Future generations should know what our history is," said Kirti Joshi, an assistant conservator, wiping her hands on a white apron. "To do so we have to preserve it."

The Rs2.5 million (Dh196,123) project began early last year and is nearing completion.

So far 100,000 pages – or around 300 books – have been digitised to Unesco standards and 88,000 pages cut, cleaned, laminated with chemical-free Japanese tissue paper and rebound in red leather covers with gold-embossed lettering.

Those involved want to extend the project, hoping that if money is found, 500,000 books from the university's 800,000-strong collection can be saved.

Amol Divkar, an academic whose private archival science firm is undertaking the restoration work, says it has been a labour of love, with the funding just about covering the cost of materials and labour.

But he said it has a wider significance – to set a precedent for other institutions around the country. "We are determined to show that despite all the constraints, we can do a wonderfully positive project," the historical researcher said.

India is one of the world's oldest civilisations, home throughout the years to pre-historic settlements, Mughal invaders, British colonialists and modern-day freedom fighters.

But bar a few exceptions, the upkeep of the nation's heritage is often lacking.

Mumbai's Anglican cathedral, St Thomas's, for example, has birth records dating back to the 17th century, which could be a boon for family history enthusiasts and historians, said Divkar.

But the piles of hand-written ledgers are gathering dust, mould and decay.

Like many areas of life, funding is a problem, he said, and getting government help involves a painfully slow process of tenders and red tape. Trained book preservation specialists like Joshi and her colleagues are in short supply, with some of their work correcting that of well-meaning individuals who have previously attempted emergency repairs.

"People do preservation but they don't have the right kind of knowledge about how books should be treated," said assistant librarian Anjali Kale. "See, its pages are curled. That's to do with the heat."

With a lack of will, capacity or knowledge, it's left to passionate individuals like Tilaka Joseph, the former assistant librarian who initiated the project, to stubbornly look for alternatives. She convinced Tata Consultancy Services, India's largest software exporter, to provide funding.

The giant Tata Group conglomerate is also involved in helping the prestigious Asiatic Society of Mumbai restore its 200,000-strong collection. Some 3,200 books have been restored there, including a manuscript of Dante's Divine Comedy.
Keep up with the latest business news from the region with the Emirates Business 24|7 daily newsletter. To subscribe to the newsletter, please click here.
Follow Emirates 24|7 on Google News.