Indian cinema digs into history for Oscars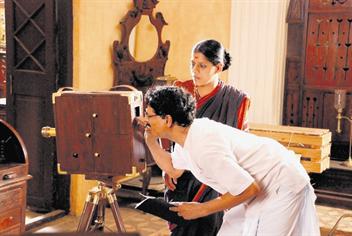 For many people, Indian cinema is Bollywood. But the popular Hindi-language movie industry and others like it across the country might have been different without a man called Dhundiraj Govind Phalke.

Phalke made India's first feature film in 1913, giving birth to an industry that is now worth Rs109 billion (Dh8.74bn), makes more than 1,000 films and attracts over three billion people to theatres every year.

Now a new film has been made about how he did it, with hopes of success at this year's Academy Awards.

Harishchandrachi Factory is India's official entry in the Best Foreign Language Film at the 2010 Oscars, having beaten stiff competition for the chance from higher profile Bollywood movies.

Writer-director Paresh Mokashi said he couldn't have wished for a better stage to promote the film – and Marathi-language cinema, which has been eclipsed by Bollywood and other regional language movies in recent years.

"This nomination from India itself is as big as winning an Oscar. I am delighted," he said.

Mokashi, who has a background in acting and theatre, said the idea for his directorial debut came after he read a biography of Phalke. "I was very impressed and I could see a film on the subject in front of my eyes," he said.

"I also knew that most Indians know that Phalke is the father of Indian cinema but no one knows anything beyond that. They don't know what he went through while making this first film and his struggles."

The Lumiere brothers' new-fangled invention of moving pictures was first shown in India at the plush Watson's Hotel in Mumbai in 1896, beginning a love affair with celluloid that has lasted more than a century.

But the films that followed were mostly on topical events and imported, and were screened to select gatherings of foreigners and the wealthy.

Phalke, a former photographer fallen on hard times, stumbled across a silent movie screening and was immediately hooked. The result of his effort to make the first Indian feature film was Raja Harishchandra – a silent film about a king in Hindu mythology – which was released in 1913 and was an instant hit.

Phalke took it to London at the outbreak of World War I the following year but turned down a deal to make more there. "I have to keep making films in my country, so that it gets established as an industry at home," he is said to have commented.

Mokashi's quest to make a film about the making of a film reflected the struggle faced by Phalke, who put Rs35,000 of his own money into the project – a colossal sum in early 20th century India.

Like Phalke, no one was prepared to back a first-time director, so Mokashi re-mortgaged his home to raise the cash. "The film cost me four crore (Rs40 million)?and nobody was willing to put money in because there was no big star cast in the film, no songs or glamour," he said.

"In short, there was no poster value for this film. But still I felt that kind of money was needed for a Marathi film because of its scale. Most of my money went on collecting antique items from different places. I had to create that era and that cost me a lot of money. I had to be authentic."

Films in Marathi – the local language spoken in Maharashtra state – were once a powerful medium in the state capital Mumbai, now the capital of Bollywood.

But the industry declined as Hindi-language cinema – with its glitz and glamour – took off. Even state government subsidies for Marathi-language films did not help.

But the medium was boosted in 2004 when the small-budget film, Shwaas (Breath), was nominated as India's official entry for the Oscars.

The movie – about a young boy with retinal cancer – failed to make the shortlist, despite intense fund-raising and lobbying that included Bollywood star Amitabh Bachchan and the Mumbai-born India cricketer Sachin Tendulkar. "Post Shwaas a lot of young Maharashtrians in their 30s and 40s entered the industry in a big way and started making many films," said Mokashi.

"Now we're seeing this industry back to the good old days with new directors and new ideas."

Harischandrachi Factory could avoid the fate of Shwaas, where lack of exposure was seen as the reason for its failure to be Oscar-nominated.

Indian studio giant UTV and Paprika Media, a unit of the Essar company, are heavily promoting the film, which will release on January 22.

Mokashi said he feels his film – which is up against entries from 64 other countries – has potential, with corporate backing and national exposure, including a clutch of film festival prizes.

"I didn't have money to release the film, so I released it on the festival circuit in January 2009 and there was a very good response. Now, I hope this word-of-mouth publicity will benefit the film at the box office."
Keep up with the latest business news from the region with the Emirates Business 24|7 daily newsletter. To subscribe to the newsletter, please click here.
Follow Emirates 24|7 on Google News.