Indian epic finds a new groove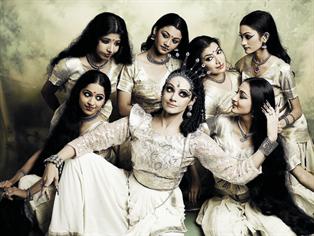 When a revered dancer like Bollywood's Hema Malini praises a musical that doesn't even feature her in the lead, you suddenly sit up and take notice. For South Indian actress Shobhana and her dance-drama, Maya Ravan, the unexpected PR has only added to the hype over of her adaptation of the Indian epic, Ramayana.

The theatrical production, which is being staged at the Sheikh Rashid Auditorium today and tomorrow, sees Shobhana essay the role of the 10-headed demon, Ravan. The show also features the voices of top Indian actors Nasserudin Shah, Tabu, Revathy, Jackie Shroff and Milind Soman.

Compared in opulence to a Broadway musical, the two-hour extravaganza has been choreographed by Shobhana herself, which sees her taking many creative liberties with this age-old epic that is brought to life on stage to a background score of classical folk music fused with flamenco and Bollywood kitsch.

"Maya Ravan is a classical ballet that sees Shobhana putting her best foot forward as one of India's finest bharatnatyam (traditional dance form) dancers," says organiser Satyan Nair, Director of City Vision Advertising, which has partnered with Good Times Global. He adds: "The show has had a successful run in the United States and India, with the audience feedback extremely positive."

Ramayana is the proverbial tale of good triumphing over evil. When King Rama is banished to a forest for 14 years, his wife Sita is kidnapped by the evil Ravan. Rama, along with his brother Laxman and an army of apes, launches an assault to rescue Sita and rid the world of Ravan's demonic ways.

In an interview with web portal, www.indiafm.co.in, Shobhana talked about her fascination with the epic, along with shedding light on the different facets of Ravan. "He was handsome, he was an artist, a painter, loved the arts and even used to play the Veena (stringed instrument). He was also a great devotee of [the Hindu deity] Shiva," she said.

It's these very facets that will be highlighted on stage, humanising Ravan and allowing audiences to understand the character's depth.

An acclaimed dancer, Shobhana has received numerous awards, including India's civilian award Padma Shri, in her 30-year career.


Play house

Just when we thought the economic downturn would see entertainment cutbacks, along comes a theatre production that promises free entry for its patrons.

Dastak, a thrilling Hindi-language play is being staged today at the Versailles Hotel, Deira. Organised by Theatrewallas, Dastak is an adaptation of the famous Swedish play, Finns Det Tigrar I Kongo? (Are There Tigers in Congo?).

Director Prakaash Soni tells Emirates Business: "This is an experiment by a group of people who share a passion for the arts. We plan to stage one play every month and hopefully generate a theatre culture here."

The show starts at 4pm today. Call: 04 227 7880.
Follow Emirates 24|7 on Google News.