Is your Valentine facing the crunch?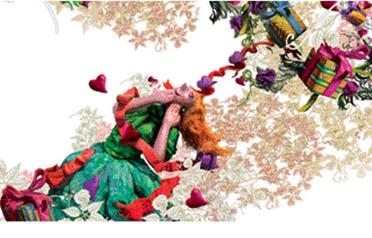 Considering the world is reeling from an economic catastrophe, the United States Greeting Card Association is still feeling the love.

A record one billion cards are expected to change hands on February 14, when the world celebrates the Hallmark-generated Valentine's Day. But it seems cards are about all that will be exchanged on this so-called day of love.

Even the most dewy-eyed spectator is forecasting rain for this year's parade, with 2009's estimates no where close to the $7.2 billion (Dh26bn) lavished on gifts and deals last year. Due to the global slowdown, flowers and cards are the only two industries that are expected to make any profit.

The mood in Dubai is just as grim, with an informal Emirates Business survey showing that out of 100 people, only 31 are willing to dine in a five-star hotel. And even those are being examined with a fine comb to find a cost-effective deal for two. Another 47 are celebrating at home, with the rest ignoring the occasion.

Thomas Bell, a 29-year-old media professional, says: "With no bonus in 2009 and no job security, I'm taking my date for a Big Mac and then to the movies."

Ask the hotels though, and they paint a different picture. "The enthusiasm for Valentine's Day in Dubai has not abated, despite the economic climate," says Fernando Medeiros, Assistant Food and Beverage Manager, Hilton Dubai Jumeirah. "Our bookings are looking as healthy as last year. In fact, advance bookings are on the rise, with people booking up to two months in advance."

Graeme Ure, Food and Beverage Manager at Media Rotana Dubai, says: "Our bookings are very healthy. We are offering a great product at an attractive price, hence, we got a huge response."

So whether you're planning to ignore the credit crunch to splash out on your sweetheart, or turn into a Valentine's Day Grinch, there are many gift options to choose from to suit every bank account. Here are our top picks.


Cheap as Chips
Wallet-Friendly Ways to Impress your Valentine

Love coupons: Not enough cash to order that five-course meal at the Hilton? Don't fret. Simply log on to Marthastewart.com for some easy DIY recipes to treat your Valentine.

Take a page out of Friends, and throw in coupons for some of your personal loving to make the night really special. But remember, a coupon to wash the dishes should not be amiss.

Picnic under the stars: Forget what the hotels are offering and pack your own wicker basket with a bottle of something special, homemade sandwiches and a few pastries from Sugar Daddy's in the Village Mall, Dubai. All this shouldn't cost more than Dh100 and we're sure you'll score some brownie points for innovation.

Abra ride: No, we're not kidding. Forget the dhow cruises and opt for a solitary abra ride along Dubai creek. For Dh50, you can float away from Al Seef Street up to Garhoud Bridge and back.

End the experience with a cosy walk through the Heritage and Diving Village, with a few shawarmas for dinner – simply call it a perfect Arabian V-Day.

Learn a hobby: Spend quality time together learning each other's hobbies. If you love cooking, rope him into the kitchen to prepare a romantic meal, as you spend the afternoon mastering his favourite sport.

Massage away: If the dining deals are destined to burn a hole in your wallet, then here's a cheap and surefire way to enjoy the day with your partner.

Spend the day in, watching each other's favourite film (even if the choices are as varied as 10,000 BC and She's All That). Then set the mood for the evening with warm lavendar oil to treat each other with at-home massages. Pure bliss!

Play a game: Why should V-Day just involve grown up fun? Ring round your friends and have them over for game night, with fun spot prizes to pepper things up. If its just the two of you, then innovative games involving poker comes to mind.


Been Saving in Advance?
Plenty of Choice for the Sensible few who Managed to Stash Away Some Cash Early on

Go on a road trip: Spend the weekend away from the hustle and bustle of the city, and head with your loved one to Fujairah where you can stay at one of the emirate's many beautiful hotels.

Le Meridien Al Aqah is offering a Valentine's special priced from Dh999 per couple, which includes a night's stay at the resort, and a secluded candle-lit dinner on its private beach. For a little extra – Dh3,799 – you can even charter a seaplane and fly away with your Valentine to the dream destination. A return drop off to Dubai by car is included. Call: 09 244 9000

Even health freaks can celebrate: If your partner is somebody who would rather starve than be caught with a burger, then make them skip the gym for the day and head to Azur at The Harbour Hotel and Residence, Dubai Marina.

The restaurant offers Dubai's very first "farm-to-fork" experience, which means that all produce can be traced back to its origin, and at least 70 per cent of the ingredients are organic. The deal comprises dinner and a one-night stay in the hotel for Dh1,999 per couple. You have the option of adding an early afternoon spa treatment for Dh800. Call: 04 319 4000

Cruise the night away: Roses are red, violets are blue, Valentine's is better on a dinner cruise for two! At least that's Bateaux Dubai's opinion for V-Day this year.

This 2.5-hour cruise, which includes a welcome drink and a five-course dinner, will set you back Dh950 per couple. Call: 04 399 4994

Romantic retreat: For those craving a spot of pampering and relaxation, we recommend the Raffles Amrita Spa's Valentine deal for couples.

Priced at Dh1,289, this 90-minute session starts with a candle-lit aromatherapy bath in the privacy of your own couple suite, complete with a Jacuzzi, a fresh fruit platter and beverages.

This is followed by luxurious side-by-side aromatherapy massages. Two glasses of bubbly are included in the package. Call: 04 314 9869


What Credit Crunch?

If Money is no Object, here are Top Treats to Max Out that Card

Party at the Palace: The perfect mix of simplicity and style is the Valentine weekend package at the Emirates Palace, Abu Dhabi.

For Dh8,100, you get a limo transfer to the capital, a delicious breakfast, a two-night stay at the Anar Suite and an in-room dining experience on V-Day. Team it with the Dh600 Gourmet Safari, as part of Gourmet Abu Dhabi food festival, and you will be set for a gastronomical delight. Call: 02 690 9000

Zip on to the love boat: If you have Dh12,000 to spare (plus another Dh10,000 as refundable insurance), rent a Ferrari for the day for Dh6,000 on www.Bluebanana.ae.

After you and your partner have zipped across Hatta highway, indulge in a romantic two-hour VIP cruise (whatever that means) from Jumeirah Beach Hotel. For Dh6,000, the deal includes a three-course meal and light refreshments. You can even extend your cruise for Dh2,500 per hour. Call: 800 222 6262
A class apart: If a classy date is what you desire than you can do no wrong by the whopper deal we have for you: Simply cough up Dh40,000 and you can rent a gorgeous Rolls Royce Phantom from Topdriveuae.com for Valentine's weekend, followed by a romantic mountain retreat at the Hatta Fort Hotel for an additional Dh3,000. Call: 04 852 3211

The ultimate Valentine: Designed to impress even the harshest critic, this unforgettable V-Day package from Bluebanana.ae will set you back by Dh200,000; tips are not included of course. First, pack your bags for a two-nights luxurious stay in a five-star hotel in Dubai. A private butler will also be attached to your hips for the weekend.

Add to that a chauffeur-driven Hummer at your beck and call, a beauty treat for her and a style and grooming experience for him on the first day.

A fashion guru will hop along at the halfway point to help with a tailormade suit for him and a designer evening dress for her to the value of Dh20,000.

Add in some more spa treats, a seven-course meal, entertainment by a classical pianist and a selection of De Beers diamonds and Swarovski crystals. Phew!

If this doesn't impress her, we say dump the diva and move on to greener pastures.


Valentine First-Timers

If it's your First V-Day Together,Stop Being a Penny-Pincher

Take a trip to the desert: We're in the UAE after all, so nothing is more romantic than expressing your love under the moon and stars in the great outdoors.

Al Sahra Desert Resort is offering a Valentine's package, which includes a four-course meal, a gift hamper and bottle of bubbly for a bargain price of Dh750 per couple.

Plus, live band Arabesque will be on hand to entertain throughout the night. Call: 04 367 9500

Go online: Take advantage of the weak British pound and visit Firebox.com to choose from a great selection of memorable gadget gifts.

Its biggest sellers include creating your own romantic personalised calendar, as well as a life-sized chocolate pizza. You can also make them a USB mixtape (looks like a cassette, but it's actually a USB MP3 disk). However, our biggest favourite has to be the website's Chococlock, a stylish retro-modern timepiece similar to a cuckoo clock. But instead of having a bird annoying you every hour, it delivers a scrumptious chocolate treat to the tune of the Dance of the Sugar Plum Fairy. Fabulously tacky.

The prices won't break the bank either. These gifts cost anything between Dh250 and Dh600.

Cheap but classy: For a touch of sophistication, Channels restaurant at Media Rotana Dubai is offering a buffet for Dh399 per couple, which includes beverages and a red rose for the lady in your life.

After dining, you can dance the night away to the live classical music on offer. Call: 04 435 0440

Layla Majnu – Dubai style: Who says you cannot go back in time and celebrate love like they did in legendary tales of the past?

The epic story of India's star-crossed lovers, Layla Majnu, comes alive in the city through Al Murooj Rotana's Zaika restaurant.

The red hot spicy meal deal offers a five-course set menu for Dh550 per couple, inclusive of two glasses of bubbly.

Now all that's missing is the evil mayor who kidnaps "Layla", kills Majnu and all those silly costumes. Call: 04 321 1111


Lonely Hearts' Club

Singles in the City can have their Own Fun

Ya-Ya Sisterhood (or brotherhood) prevails: While couples around town chalk up the mush factor, V-Day is a perfect time bond with your mates. Grab the pals and get wet and dirty with a surfing lesson on Umm Suquiem beach. Bluebanana.ae is offering the ride of your life – a 1.5 hour-long lesson – for just Dh200.

As night falls, head to Vista Shisha Terrace, Express by Holiday Inn, for an exclusive V-Day party for singles. At Dh225 per person, you can enjoy pink bubbly and canapés. Perfection.

But if riding the waves has tired you out, snuggle down with a bottle of grape juice, a tub of buttered popcorn, a chick flick in the DVD player and your best friends for company.

Love the one you're with: Surprise your parents, a sibling or even an old teacher with a box of candy or flowers and enjoy the day with them.

Make a spa date: V-Day is the perfect time to demonstrate how much you love yourself.

To avoid bumping into love-struck couples at the spa, ladies can head to the women-only SensAsia Urban Spa, Village Mall (04 349 8850) and be Queen for the Day for just Dh1,500, inclusive of a Balinese massage a facial, a body cleansing ritual and much more.

The boys can enjoy a Two for One Massage at the Gentleman's Spa (04 395 5015), with prices starting at Dh490.

Volunteer your time: Be Patch Adams for the day and spread some cheer among the children at Al Wasl Hospital.

Weekend getaway: If you are dreading spending February 14 in the city, here's a thought: As V-Day falls on Saturday, why not plan a weekend away from the madness? The Jal Fujairah Resort and Spa is offering a one-night stay on February 13 for just Dh1,128 for a deluxe ocean-facing room. Call: 09 244 9700

Retail therapy: What better way to spend the day than by treating yourself to that gorgeous Prada handbag you've been eyeing at the mall. Credit crunch can take a backseat for a day.
Follow Emirates 24|7 on Google News.