It is hard work being a Survivor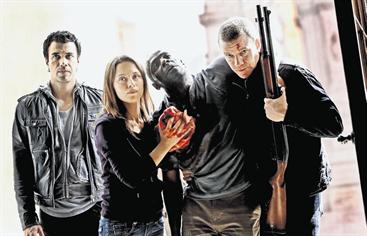 For most actors, a day on the set of a post-apocalyptic drama would be tiring enough. Paterson Joseph, however, found himself dashing back and forth between filming the new series of Survivors and shooting his scenes in British award-winning comedy Peep Show.

"It was so disturbing," admits the 45-year-old, best known as David Mitchell's self-assured boss Alan Johnson in the comedy. "It worked out that on a Saturday I went to do Peep Show, on Sunday Johnson sacked everybody, then I came back on Monday and I was down a coal mine [in Survivors], and then on Tuesday I went back to David Mitchell with a Hitler moustache.

"It really was a stretch, but I hope I did justice to both shows."

The second series of the drama Survivors, which follows a group who have survived a deadly virus that has killed 99 per cent of the population, promises to be darker than the first. It is set to begin on BBC Entertainment this month.

The show, a remake of the 1970s original, has taken on greater significance in a year that saw the threat of a global pandemic become more real with the outbreak of swine flu. But Joseph doubts swine flu will prove as prevalent as the Survivors virus.

"In the UK, I think we cranked up the panic, but it shows we are vulnerable to viruses, we're not superhuman and some of us will be immune and some of us won't. The programme highlights that and warns us about our fragility."

Joseph's character Greg Preston was shot in the last episode of the 2008 series. As this series begins, he is fighting for his life. Let the story unfold.
Keep up with the latest business news from the region with the Emirates Business 24|7 daily newsletter. To subscribe to the newsletter, please click here.
Follow Emirates 24|7 on Google News.