Jolie finds new depth with Changeling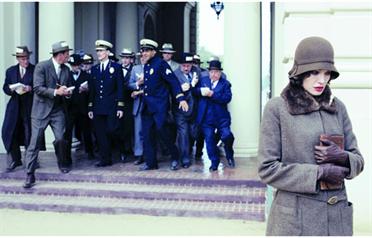 For only the second time in his filmmaking career, Clint Eastwood's ongoing celebration of the loner who bucks the system, the "cowboy" who demands justice without concern for personal jeopardy, settles on a heroine.

Like Hilary Swank's boxer in Million Dollar Baby, Angelina Jolie's single mother, Christine Collins, takes every punch thrown at her and comes back fighting.

Her combat is not in a boxing ring, but rather in a corrupt police department, psychiatric ward and the court of justice where she demands to know one thing: What happened to her son?

A true story that is as incredible as it is compelling, Changeling brushes away the romantic notion of a more innocent time to reveal a Los Angeles circa 1928 awash in corruption and steeped in a culture that treats women as hysterical and unreliable when they question men.

Jolie puts on a powerful emotional display as a woman who gathers strength from those who oppose her.

The combination of Jolie and Eastwood would ordinarily mean box-office gold, but Changeling is a tricky movie to market as it touches on every parent's greatest fear – the disappearance of a child – and is a period film that deals with a situation unimaginable in contemporary American society.

In March 1928, Christine Collins's nine-year-old son Walter vanishes. Five months later, the LAPD, already under the gun for other unsolved crimes, calls out the press and delivers to Christine a boy who claims to be her son but is not.

To avoid embarrassment, Captain Jones (Jeffrey Donovan) demands she take the boy home on a "trial basis." When she continues to insist the LAPD needs to find her real son, Jones does what the department always does with troublesome citizens – he locks her up in a psycho ward.

A radio minister, Gustav Briegleb (John Malkovich), takes up her cause and challenges the police. Meanwhile, another officer, Detective Ybarra (Michael Kelly), launches an investigation into a serial killer (Jason Butler Harner) that not only proves Christine's contention but exposes the force, its chief and the mayor to the wrath of a citizenry fed up with living in a police state.

This story, uncovered by screenwriter J Michael Straczynski in the city's records and newspapers, adds a forgotten chapter to the LA noir of Chinatown and Hollywood Confidential.

Sticking fairly closely to the facts, the movie necessarily drags us through a couple of courtrooms that cause the drama to sag momentarily.

Jolie shuns her starry image to play a woman whose confidence in everything is shaken to its very core. This woman has a depth she herself has never explored.

The movie draws strength from Eastwood's melodic score that evokes a mood of a city and even a country nervously undergoing changes. Eastwood continues to probe uncomfortable subjects to depict the individual struggle to do what is right.
Follow Emirates 24|7 on Google News.