Kids get a taste of the real world at new leisure centre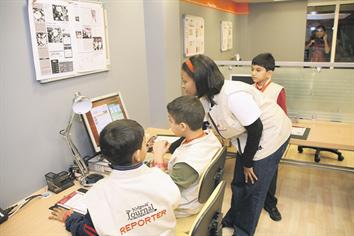 Imagine a world where everything is child-sized, where the citizens of tomorrow don't need to wait until they're all grown up to act out their dreams of becoming firemen and pilots.

Dubai's little people can now work, play, spend and save in just such a small world – over at Dubai Mall, home to the first KidZania indoor entertainment centre in the region.

The 80,000 sq ft facility opens today and features an assortment of establishments covering the entire fabric of a working economy. From banks to hospitals, universities to salons, television stations to music lounges, and hospitals to hotels, they are laid out like a small town, complete with petrol station, race track, roads, fountains and restaurants.

"The great thing about KidZania is that it takes a universal activity, which is the idea of role play, and replicates that in a real-life city that is scaled to children's size," William Edwards, Governor, KidZania, told Emirates Business.

"Through its various activities, KidZania teaches children the principles of life in modern society, which will help them in future growth."

The indoor theme park has partnered with several companies in Dubai, including Emirates Airline, HSBC, Enoc, Waitrose, Jotun, Dubai Health Authority, du, McDonald's, General Motors, Emirates Driving Institute and Swatch. These offer real-life professional work environments where children can earn play money or KidZos for undertaking real-life tasks, such as writing articles for a facility journal, patrol the streets as detectives, tend to airline passengers and cook up meals.

The idea was first developed and rolled out in Mexico, in 1999. There are seven facilities around the world today, including Dubai. Emaar Retail, the entertainment and retail subsidiary of Emaar Properties, holds the licence for the UAE.

Edwards could not comment on how much the first venue has cost, except for saying that it was "a very capital-intensive" project.

"For the moment all our energies are focused on the Dubai Mall location, but in the near term we could possibly expand into other locations," says Edwards.

He said a marketing campaign is currently being rolled out to promote the concept, following an intensive phase of in-mall marketing.

Ahead of today's opening, he added, tickets to the facility have been pre-sold at the KidZania airport-style entrance point in the mall. "We've sold thousands of tickets," he said.

Tickets to KidZania are priced at Dh125 for children and Dh90 for adults.

At the entrance, or "check-in", each child is provided with a boarding pass, city map and a cheque for 50 KidZos. These can be used to buy goods and services; or even save them at the bank, which will provide them with an ATM card too.

Children can spend unlimited time within the zone while, in a twist on the way things work in the real world, parents can rest at a dedicated lounge with internet and movies, if they so choose. All children are provided remote frequency wristbands to help parents monitor their activities.

Most games and rides at the venue cater primarily to children aged between four and 14 years, but there is a dedicated area where toddlers can be left in the care of experienced child care professionals.

At any given point, the venue can house up to 2,000 children, Edwards said. Opening times are in line with mall hours.
Keep up with the latest business news from the region with the Emirates Business 24|7 daily newsletter. To subscribe to the newsletter, please click here.
Follow Emirates 24|7 on Google News.