King of the comeback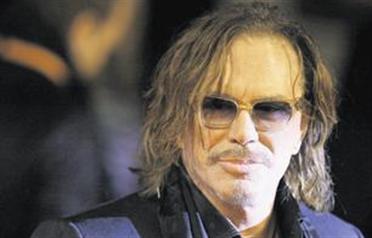 From the Golden Globes to the Baftas, Mickey Rourke is going from taking hits in the ring to doling them out himself. The actor is the star of Darren Aronofsky's The Wrestler, which is currently playing in UAE cinemas.

But the comeback star hasn't entirely abandoned his bad-boy ways – he swore during his acceptance speech and puffed on a cigarette on the Bafta red carpet. But he acknowledged that the award – for his portrayal of a down-and-out wrestler struggling to stay in the limelight while fighting his own personal demons – was part of his emerging "out of the darkness".

The role has strong echoes with Rourke's own tumultuous life, which saw him go from one of Hollywood's brightest talents to the butt of comedians' jokes. "I lost everybody's trust. I had some things I had to change. I didn't handle myself like a professional," he said at a post-Bafta conference. "After 13 years of therapy, after losing everything, I needed to put the pieces back together to be okay with the change of being accountable."

In this interview (expletives deleted!), he talks about getting in shape for The Wrestler, his injuries, his comeback – and all the Oscar buzz.

How much did you need to bulk up for this role?

Um, we had six months of weight lifting. I had to get up to about 234, 235lbs from 193lbs. I never had to gain weight before so I thought, 'Oh wow, I get to gain weight'. But we had to put muscle on, not fat. It got really hard after about 20 pounds; 215, 218 is where I kind of petered out. I hired this army commando who was really strict with me. He wouldn't take any nonsense and that's what I needed. I remember, I was running around going out to nightclubs and I came in all haggard one day. "Come here," he says, "Do you want to look like this the first day they see you in the movie?

Y'know, you're out until five in the morning – you're not going to look like how we want you to be and you're going to be disappointed." So I got very disciplined with him.

And what was the actual training that you went through?

The physical thing, the eating was tough cause we had between six and seven meals – small meals through the day, and mainly protein at night so it didn't turn into fat. It was regimented. I lifted light weights in the gym just to get cut. I never lifted big heavy iron. A lot of protein shakes followed by wrestling practice, which is no walk in the park. Anything that picks you up that's 240lbs and throws you down, it's going to hurt you a little bit. And so – these guys are like any kind of professional. They know how to flop, and I was dropping like a brick. I didn't know how to flop. I was landing crooked and things were getting dislocated.

I think I had three MRIs in two months. Darren was screaming at me: "You're only giving me 50 per cent." He didn't know that I blew out a disc and I didn't want to tell him. I told my agent, 'I don't know if I'm going to make it. I'm really hurting!' I was afraid to go to a real doctor cause I don't like doctors. So I went to an acupuncturist and a chiropractor but not any other doctor because I was afraid there was something wrong with me and I was too afraid to find out. In the end I went to a proper doctor and he said, "You have a blown-out L-5 surrounded by arthritis," and he gave me anti-inflamatories and I was good in two days. I should have done that instead of going through hell.

People call this a comeback role for you. What's your response?

Well, the comeback thing has taken shape. "Comeback" is two words. If you look that up in the dictionary, you can be coming back from lunch, coming back from losing both legs in Iraq, coming back from a good time. I mean, it's gotta be defined. The comeback thing has been a process for me over the last 13 years of having to realise that I had to change and change for me – I wasn't ready. I didn't want to change, but I had to. I thought the change could take place over a year, a year and a half, two years, but it took a decade.

What did you want to change?

Everything. I didn't have much – I didn't understand what it was to be a professional, to be accountable, to realise there would be circumstances and repercussions for my actions if my fuse was lit. I didn't care back then. It was a matter of respect and principle. And as I learned, that can be a weak thing instead of a strong thing.

But where I came from, that's the way the men are and that's how I always wanted to be. There's always going to be that in me. I just gotta adjust it and behave – realise, wait a minute, if I do that or say that, I could pay the price for that even though it's the truth. Where I short circuited is when I realised how much of a business it is and how political it is. You can be mediocre and be a total movie star, for crying out loud. And I guess it's always been that way, but for some reason I was offended by it. But when you go out and you start acting, you realise, they just want you to show up and know how to be a business man.

You shot these matches in front of crowds who were primed from previous real matches. Did you ever get the sense they were taking this stuff too seriously?

No, we had no money to shoot any other way. We couldn't afford to bring extras in. We had a $5 million (Dh18.35m) budget. And Darren, who is the great director that he is, and I've worked with a couple of great directors like Coppola and Cimino, decided to shoot the movie in a very objective, documentary-style way with hand-held cameras. It was like commando style, guerrilla filmmaking, and he pulled it off. He took a big chance with it and he took a big chance working with me cause everybody told him, "You're making the wrong decision." And I'm very grateful he stuck by me.

Let's talk about the Oscar buzz? What are your thoughts on that?

They change every day. I can't give you an honest answer because, I mean look, if it's about the work, I know what I did. If somebody does a better job than me, than that man deserves it, whatever it is, I know what I did and I know what I did in my heart. And if somebody else brought it better, then let's see it brother. That's all.

Eighties or nineties?

I wasn't in the nineties, I was sitting on the bench.

What did you learn about Mickey Rourke playing this character?

I'm real lucky that I bumped into people to get advice from. This character doesn't have that access, that's the only difference, really. The best thing that can happen to him is he goes out like a light bulb when he lands on that mat instead of living in that trailer and living in shame. A guy like that? No way he wants to serve up salami. He's better going to the happy hunting ground.


What next?

Good roles had dried up for Rourke, who struggled with celebrity after winning critical praise for films such as Diner and The Pope of Greenwich Village. "I just didn't have the tools to play the game, understand the politics," he said. "I have a lot of regrets."

But after all the awards coming his way, Rourke is now being called about new film roles. "People I burned bridges with years ago seem to have forgiven me for the horrible way I carried myself," the 56-year-old told reporters in California this week.

The Wrestler has opened doors for Rourke, who is scheduled to appear in four films next year, including Iron Man 2 and Sin City 2. He is also set to star in St Vincent as a hit man who returns to New York to complete a botched hit.

Masquerading as a priest, he finds himself hearing the confession of the man he is targeting. Walter Hill, who directed Rourke in the 1989 gangster tale Johnny Handsome, is at the helm of the project.
Follow Emirates 24|7 on Google News.