Macca is smokin'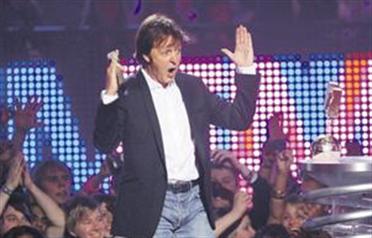 Sir Paul McCartney had a busy year last year, all things considered. There were a number of concerts, including the celebratory show at Anfield to mark Liverpool's status as European Capital Of Culture, and another, more controversial one in Tel Aviv, not to mention that nasty divorce business. The less said about that the better.

More recently, the 66-year-old and his long-time collaborator Youth – or Martin Glover, to give him his less glamorous name – have had their hands full with the release of Electric Arguments under their Fireman moniker.

It's no wonder he's looking forward to some time off. "I get to a certain point, round about when the kids break up from school, and I think I should break up too," he says in his Liverpudlian lilt.

"I don't like the idea of keeping going while they've all stopped," he jokes. "We should all stop and have a break."

Electric Arguments is the third album released by Sir Paul and Youth, although it's the first to feature vocals from the former Beatle and Wings man. Their previous two offerings, Strawberries Oceans Ships Forest (1993) and Rushes (1998), were albums full of ambient instrumental music, with Sir Paul's involvement only confirmed by then-label EMI after some time had passed.

Their latest work was written and recorded in "about 13 days," or so Sir Paul says.

"We don't count the days, we don't bother with that," he explains. "We just go into the studio, in Sussex, then if I've got a week spare I might do something, or we might leave it a week and then go in another day. It's really when we've got time to work on it."

The title of the album comes from an Allen Ginsberg poem, Kansas City To St Louis. Ginsberg and other Beat poets provided inspiration elsewhere on the album too.

It was Youth who first suggested the idea of having vocals on the album this time around, but Sir Paul, unprepared and without any lyrics written, wasn't so sure.

"He knows me well enough now that if he coaxes me a little bit, or just keeps quiet long enough that I'll say 'Go on then, I'll try something' once the idea is in my head," he says of his musical partner and former Killing Joke bassist.

"So I excused myself to everyone in the studio, and explained that it could be a highly embarrassing moment for everyone, but got up and started singing some melodies.

"Then we started looking in poetry books," he continues.

"We just wanted to find good-looking words, so that's what I went for, inspirational words from people like [American poet] Lawrence Ferlinghetti and Ginsberg."

The first song on the album to take shape was what became Travelling Light. "I'd been listening to a CD of sea shanties, and Youth runs a folk label called Butterfly," he begins. "They put out these compilations called What The Folk, so he'd sent me them. As a result, Travelling Light is a folky sea shanty, and we took it from there."

Next up was raucous opener Nothing Too Much Just Out Of Sight, which sounds like an updated version of Helter Skelter from The Beatles 'White' album. "It was something an old friend of mine in the 60s, Jimmy Scott, used to say," Sir Paul says.

"People were always saying things like 'It's too much, man, too much', and Jimmy would come back with 'Nothing too much just out of sight'. I told that to Youth, and he said 'Great, let's have it'."

It's not the first song Jimmy sparked off, either. "I'd meet Jimmy and say hi, and he'd say, 'Ob-la-di, ob-la-da, man, life goes on', so he was the inspiration for that song too," he says, referring to The Beatles' 1968 track.

But why The Fireman? Why not just Sir Paul McCartney and Youth? It seems that surname can be something of mixed blessing.

"It can get in the way sometimes," he says. "Your reputation walks ahead of you.

"Think of Sgt Pepper, that was the idea behind that album, too."

Sir Paul has a habit of doing this. Just as you've gotten over the fact you're talking to a quarter of The Beatles, and, as the Guinness Book Of Records states, the most successful musician and composer of all time, he throws in a reference to knock you off your feet. We talk about Get Back being "just a jam" and says, "It's like I used to say to John," once or twice too. That'll be John Lennon, then.

It also happens when the conversation might not be going as he wants, or there's a lull in the chat. Whatever, it's an effective tool to have in the arsenal.

"When we made that album, we became those characters," he continues. "I mean, you're not stupid, so you're not really fooling yourself, but it's enough of a trick to make you look at things differently.

"With Electric Arguments, I wasn't stepping up to the microphone thinking 'This is a Paul McCartney vocal, this must be a certain way' – I was thinking 'This can go any way, because this is The Fireman, and he can do anything he wants'."

Despite having passed the 64 years he once mused upon in a Beatles song, Sir Paul has no intention of slowing down.

Later this year, he plans to start work on a feature-length animation of High in The Clouds, the children's tale he wrote with Rupert/Frog Song collaborator Geoff Dunbar and is currently in talks with an American studio to see that happen.

He's also got a guitar concerto on the back burner, and of course, there's always the issue of getting The Beatles catalogue onto iTunes.

The Fab Four's work isn't available online due to legal wrangling between the companies concerned – Apple Inc, those behind iTunes and the iPod, and Apple Corps, the company Sir Paul set up with the rest of The Beatles in 1968 to look after their affairs and recordings.

"I hope it happens," he says.

"It's out of our hands, really. It's a business thing and there's some gridlock somewhere.

"It's the usual thing, when it's a Beatles deal, it's a big deal – it's not like we're just some new act. And when you're talking about iTunes, obviously we've got to get a great deal," he continues.

"I think we're right, because we're The Beatles!

"It's being held up, but I definitely hope it comes through because a lot of people are interested and it's about time it happened. We've been goofing around enough, so if you're reading this, whoever's holding it up, stop it!"

Electric Arguments By The Fireman. Out now for Dh65


Did you know?

- Sir Paul, through his company MPL, owns the copyright to more than 3,000 songs, including the entire Buddy Holly catalogue, and the publishing rights to musicals including Grease and Guys & Dolls.

- Sir Paul's real name is James Paul McCartney.

- Macca's song Yesterday is the most covered song of all time, with more than 3,700 versions recorded. It appeared on the band's Help! album in 1965, although wasn't released as a single until 1976, six years after the Fab Four split up.

- Sir Paul is the only artist to top the charts as a solo artist, as part of a duo [with Stevie Wonder], trio [Wings], quartet [The Beatles], quintet [The Beatles with Billy Preston] and an ensemble [Ferry Aid and Band Aid]

- Around the time of Abbey Road's release in 1969, an American DJ put together a string of unrelated incidents to claim Paul McCartney had died in 1966 and had been replaced by lookalike and soundalike. Some still believe the theory to this day. One piece of 'evidence' is that Sir Paul isn't facing the camera on the inner sleeve of Sgt Pepper, although this can be explained away – he had a motorbike crash and cut his lip, causing a scar. He grew a moustache soon after to cover the mark while it healed.
Follow Emirates 24|7 on Google News.