Motown shines with gold record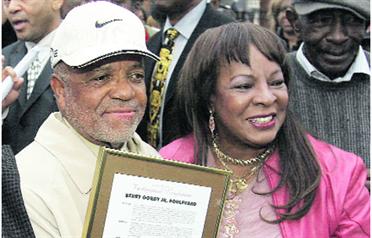 Motown Records turned 50 this month – the very label that made legends out of Michael Jackson, Stevie Wonder and Diana Ross.
Emirates Business chats with founder Berry Gordy, 79, about all things Hitsville [the birthplace of Motwon Records in Michigan, US] as he spills the beans on why he turned down Jackson at first, why Wonder was nothing but a nuisance and why he sold the company in 1988.

When was your last visit to Motown's Hitsville home on Detroit's West Grand Boulevard?

The last time I was at West Grand was during Levi Stubbs' funeral, in October. I spoke at his funeral. Levi Stubbs was one of the great singers of all time, and I enjoyed his music so much.

What's it like going back there?

I'm very proud of the Hitsville Museum, but I'm not anxious to go there because it's an out-of-body experience. People walk through the house I lived in and say: 'This is where his baby was, this is his stove, this is the kitchen'. It couldn't be me. I'm way too young to be the person who lived in that little room and ate on that kitchen table, which is a foot long. I'm too young for a museum.

What made it so creative? Was it because everything was part of the community?

Yes, that was part of it. We lived there and it was all fun and we were all enthusiastic and passionate. And it was not only my home, but it was everybody else's home that worked in Motown – all the artists. Whenever they came off the road, they wouldn't go home; they always came to the studio, because it was going around the clock, everybody was recording. Many times people couldn't get in the studio because there was so much action going on there.

Producer-songwriters Brian and Eddie Holland said it was the biggest boys' club.

Oh yes, it was home to everybody. It was the second family to everybody and the first to many. Never before in history has a company had that much closeness and success. And I don't think it will happen again.

Was there competition between the writers, producers, and artists?

It was built on competition. I started it out that way. Everybody competed with everybody. And people said it wouldn't work because they all competed against me.

Whenever they beat me, they were happy and I was unhappy. We usually voted and Smokey Robinson and I had the biggest rivalry; I hated him because he won almost every time and I had better songs than he did. But people knew they could vote against me, and because I was the boss, they took advantage of me and made Smokey's songs better than mine. So he got the releases and I didn't. That's why he is more popular and I'm the better writer (laughs).

Love and relationships were the formula for hit records?

And the truth. About the song and the situation. Take Smokey's Tracks Of My Tears which had you visualising a person crying; everything was visual and truthful. I was the first songwriter to do that, and when others came along, they were good too. All because I chose artists who had integrity and character; just because a person was talented did not mean I would sign them. Handling success was an integral part. And because we were confident we could get hit records, Motown artists had longevity.

Was it like going back to school?

I created a "cycle of success" where I would tell the artist where they featured on the cycle. A hit record was a part of it, but where they got money and used it for something else was another part.

Brian and Eddie once said what they dealt with lyrically is still part of every soap opera today. Would you agree?

I don't know exactly. I agree their lyrics were some of the greatest, yet underrated. Yet, aside from writing skills, their coaching and production skills were great. They coached Diana Ross and The Supremes. But some notes were too high for singers like Marvin Gaye or Diana.

Most of the producers at Motown were new people. Rick James and Nick and Valerie Simpson were single-handedly responsible for making Diana Ross' solo career work. And Norman Whitfield is probably one of the most underrated producers I know.

So did you turn down Michael Jackson?

That is correct. When Michael was offered to me by Suzanne de Passe [current CEO of De Passe Entertainment Group, then Creative Assistant to Gordy], I did not want him because he was part of a kids' group. I'd been with Stevie Wonder, who had also been part of a kids' group and had an entourage with him all the time – a strict teacher, a tutor, his mother, producer Clarence Paul and a whole group of people. Plus, he was a blind singer who wasn't making any money and I had to pay for all those people. So I was not happy with him, nor with his mother, who was even more demanding than he was.

So when Suzanne said, "Well, I got this kids' group", I said, "No, I don't want to hear anything." And she said: "Just listen to them."

And when I saw, such great choreography, Michael was just a star. He was doing splits and dancing like James Brown and cute as he could be. So I said: "Ok, I'm hooked."

It was amazing. Michael was very smart as a producer and an incredible performer.
Will we see you at the Jackson 5 reunion?

I heard about it. I haven't been in touch with them, but I think it would be great.
As an Afro-American label, how was Motown successful amid racial tensions?

I think it was successful because my first three albums didn't have black faces on there. But we had a huge global fan following. When Baby Love came out, it was a hit around the world; so was Martha & The Vandellas' Dancing In The Street.
Did you face any trouble in America?

We had trouble in the south with black artists going there because the white people wanted to see them but couldn't get into the place and the blacks couldn't dance…

Smokey and the artists were practically activists, because they went through the south and were shot at with guns. This is why the 50th anniversary is important, not for me, but for those who fought and died for Motown. Stevie got into a major accident in the south and he almost died. That's why I put our music up there with Dr Martin Luther King – he was preaching the same thing: Black man, white man coming together.
Is Motown the blueprint of shows like American Idol? Did people really queue up just to get auditioned?
Oh yes. In Detroit we were the big game. But we only accepted one out of every 20.
You've been a boxer, a composer, a worker at car plants in Detroit. What was it like being 20 and successful?

I never felt overwhelmed because I was too busy. If I didn't have artists to control and stop them from doing bad things, I'd had probably been doing bad things myself. But I'm really a teacher. I taught artists to believe in themselves, I taught them not to sell their dreams cheap. Less than one per cent of people in the world ever reach their full potential. And there are reasons why others don't. Everybody is a star, they just have to be directed in a proper way.
Were you hurt by the way you were portrayed in the movie Dream Girls – as the big hustler and gangster?

Of course! That's not who I am. I've never had any affiliations with organised crime. And for a simple reason: I'm not stupid. I don't need those people or the money. Of course I've been questioned by the FBI – simply because they found my success suspicious. But they could never harm me because there was no connection. I am living proof that you can make money the legal way if you play it smart.
Are you officially retired since selling the company in 1988?
Not officially. The stakeholders in the company are Universal, Universal Music and EMI, who got the publishing. They are partners with me in preserving and protecting the Motown legacy.
What do you think of the state of the music industry these days?
I understand their problems but I'm not sure they do. The industry is in turmoil because people don't pay to download music and it's not fair to the creative people. Technology should be used as a weapon.

Also, we never cared about the economics. I was not smart in business until I realised I would go under if I didn't. But if I were young, I would ask: "What's the challenge and how do we overcome it?"
Driving through Detroit these days must be heartbreaking?

It is, except for the fact that they knew this some time ago. As a kid, I had heard that General Motors was not doing business right. And I would say: "Well, how can they stay in business?" They were too big to fail, ever. But 40 years later, they're now at a point where they can't continue. So that's true in every business.
New releases cash in

Motown marks its big anniversary with a year-long series of new releases, including a set of podcasts featuring intimate conversations with its musicians. First up is an interview with Smokey Robinson reflecting on Motown's early days, his relationship with founder Berry Gordy and the label's impact on American culture.

Fresh episodes will debut biweekly, including those with Gordy; the late Levi Stubbs of the Four Tops; the Temptations' Otis Williams and the late Melvin Franklin; Stevie Wonder; Levi Stubbs; Diana Ross; Marvin Gaye; and the Jackson 5.

The label is cashing in with Motown: The Complete No1s, a 200-song, 10-CD box set and the 25-track CD, NOW That's What I Call Motown!. The podcasts are available on iTunes and at classic.motown.com. (Keith J Fernandez)
Follow Emirates 24|7 on Google News.