News Bits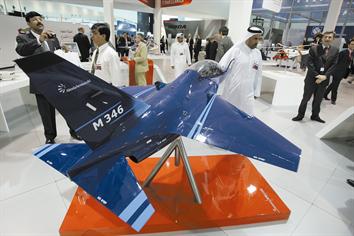 What is it? The International Defence Exhibition and Conference (Idex) is one of the world's largest exhibitions showcasing systems, equipment and services for all three defence environments – land, sea and air. Idex 2009 is the ninth event of its kind held since 1993, and takes place on Sunday until Thursday at Abu Dhabi National Exhibition Centre.

Is it a big deal? Yes. Combining the Gulf Defence Conference and an extensive exhibition featuring more than 900 local and international companies, Idex has become renowned for assembling the broadest range of suppliers, delegations, industry analysts and military strategists and has gained an enviable reputation as one of the world's foremost venues for defence business.

When did it begin? Since its inception, Idex has grown to be recognised as the premier defence show in the Middle East and North Africa region. Originally launched on February 14, 1993, with the active participation of more than 350 companies, representing 34 countries, one of the key features of Idex's success has been the active participation of a wide range of military delegations.

Who will be there? Idex will feature every major local and international defence company, covering industries as diverse as vehicles to weapons and ordnance.

How do I get involved? Visit www.idex2009.com for more information

The number
£775m

The amount (Dh.4bn) set to be paid out in bonuses at the majority government-owned RBS banking group, despite claims by British PM Gordon Brown to have imposed tough limits on handouts.

Verbatim

'The two submarines came into contact at very low speed'

Admiral Sir Jonathon Band, Britain's First Sea Lord, speaking after a British and French nuclear submarine collided during routine patrols under the Atlantic Ocean. Together, the two vessels were laden with missiles with the equivalent power of 1,248 Hiroshima atom bombs.
Follow Emirates 24|7 on Google News.