Nineties' rapper is more than a Vanilla write-off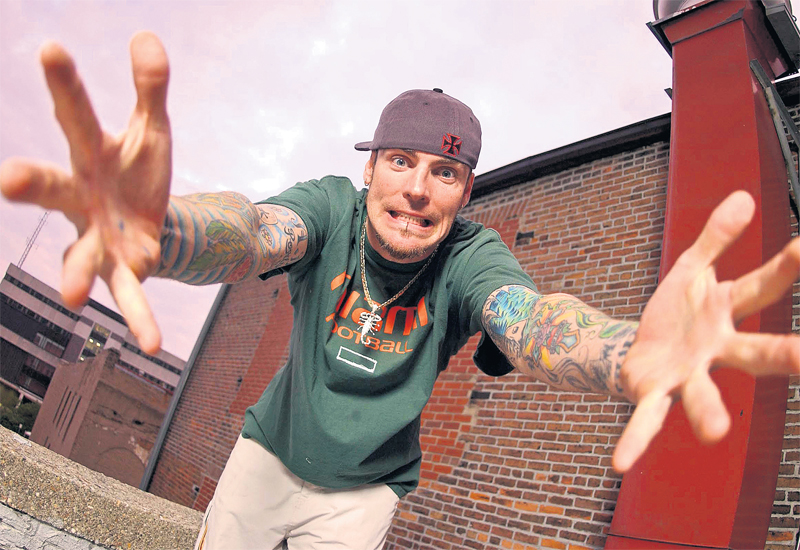 Having interviewed numerous rappers over the years, we can reveal that most of them either keep busy throwing diva tantrums or are so into themselves and their world that treating others politely is the last thing on their mind. They shall remain nameless, of course, but when we were approached to interview Vanilla Ice ahead of his performance in Dubai, it's safe to say we didn't quite know what to expect.
But what a mild-mannered gentleman he turns out to be: he calls himself by his real name: Rob V; he took the time to respond to our questions in detail; and even said: "My pleasure, looking forward to seeing you all soon", after we thank him for his time. The 42-year-old is appearing in the emirate this week as part of Barasti presents Flashback to the Nineties alongside popular '90s dance act Snap. It will mark his first performance in the region this decade.
"I love Dubai, I came here in the late '90s and played a concert at the Emirates Offshore Powerboat Race," he tells Emirates Business. "It was a great time. I always tell people how nice it was and the food was incredible."
Yes, so he is known for that one song – Ice Ice Baby in case you had boycotted music in the early '90s – and most consider it a novelty record rather than serious hip-hop… but Vanilla Ice was actually credited with helping to diversify hip-hop by introducing it to a mainstream Caucasian audience. Ice Ice Baby was the first hip-hop single to top the US Billboard charts, and his debut album To the Extreme became the fastest-selling hip-hop album of all time, peaking at number one on the Billboard 200. It sold a staggering 11 million copies.
However, the artist takes the statistics in his stride.
"I see no colour – I was influenced by hip-hop, and it reflects in the type of music I do, plus I have no ego, so I am not looking for credit for that, but it is pretty obvious.
"Think of Jimmy Hendrix – he was influenced by rock music! Music has no colour… it's entertainment, not rocket science."
And don't compare to Eminem just because they're both white.
"He is a good rapper, but I don't respect him for disrespecting his mother," Vanilla Ice continues. "I don't care what she did or didn't do – one thing you should always do is respect your mother no matter what… and never go public about it."
In the past 20 years, despite experiencing some highs and extreme lows (he attempted suicide with a heroin overdose in 1994), Vanilla Ice continued making music. He has six albums to his name, with a seventh arriving this summer.
"I just finished up my new record called WTF, which is out on June 25. I am listening to it at the moment, and can't seem to turn it up enough," he laughs. "It's a fun dance record… techno, hip-hop, pop. I have done so many different types of music and thought I would try something new and make it a musical adventure."
This year, he's also experimenting with the world of reality TV, filming a programme titled The Wild
Adventures of Vanilla Ice, which will debut at the end of this year.
"I like reality TV – it's the new soap opera. They are fun to do and fun to watch. Some are not so good, but the ones that are just keep you tuning in." Of course, this won't be the first time Vanilla Ice is associated with the reality TV machine. At the beginning of the year, he featured on the debut single of infamous Irish duo John & Edward – a mash-up of Under Pressure and Ice
Ice Baby.
John & Edward – nicknamed Jedward – attracted controversy on British TV talent show The X Factor late last year, after viewers protested that the duo shouldn't be on the show as they lacked singing talent.
So how did Vanilla Ice get involved? "When I first heard of Jedward, my street team blogged me and said 'You've got to see this – there's these twin kids that dress like the old you and play Ice Ice Baby'.
"I watched it and just laughed, but a week later I got a call to fly to London to record the song with them.
"It shot to the top of the charts, and already has sold over a million copies – so you can still sell a lot of records – you just need to download them!"
Back to this Wednesday's show at Barasti Beach, the rapper gives us details of his 45-minute performance.
"I will have a full band and DJ. Expect the show tobe high energy, with lots of dancing and good times.
Yes, we're gonna take it back to the old school – good memories!"
But does he ever tire of being known for just one song?
"We are who we are because of who we were," he says. "I have lots of regrets, but making Ice Ice Baby is not one of them. I love the song and always have; it never gets old no matter how many times I have heard it or played it. It's timeless!"
After his Dubai appearance, the artist is going to focus on promoting his upcoming album with tour dates to coincide with it. In terms of the future, he admits he has no game plan.
"I don't set time spans on my goals," he explains. "How ever long it takes to achieve them doesn't matter, but achieving them does.
"I live by a motto: 'Yesterday is history and tomorrow is a mystery', meaning just take it day by day, and the more you smile the better the day."
- Vanilla Ice performs at Barasti this Wednesday, March 31. Tickets cost Dh100, and are available only from the venue. Call: 04 318 1313
The power of snap!
Snap! comprises producers Luca Anzilotti and Michael Münzing whose international mega-hit The Power is not only one of the world's most played dance tracks, but also made the duo one of Europe's most successful producer teams. Snap!'s 1990 debut album World Power has sold more than seven million copies, featuring hits such as Ooops Up, Cult Of Snap and Mary Had A Little Boy.
Follow Emirates 24|7 on Google News.