No easy riding for Gaza bikers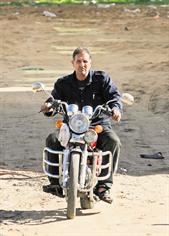 When Munzer Diyya wants to get away from it all, he sits astride his motorcycle and takes to the open road – all 45 kilometres of it.

Diyya has the misfortune of being an open road enthusiast living in the Gaza Strip, sandwiched between Israel and Egypt and blockaded by both.

So when he and his buddies gun their engines and head out on the highway, they are reduced to riding only the length of the impoverished and overcrowded Palestinian enclave. "I ride slowly to make it last longer," Diyya says. "When I ride my bike, I spread my wings. I feel like I'm flying."

The ability to spread one's wings is sorely needed but very hard to accomplish in sealed-off Gaza. The territory, one of the most densely populated places on Earth where the vast majority of the population depends on foreign aid, has been closed to all but essential humanitarian goods since Hamas took over in June 2007.

And motorcycle sales have soared since. "It's a mode of transport that is fast and relatively cheap. People prefer them to cars," says Diyya, a 42-year-old mechanic.

Because of the blockade, Gazans rely on smuggling tunnels on the border with Egypt, which are often targeted by Israeli warplanes.

"Bikes are a recent phenomenon here," says Diyya. "Before 2007 there was just a little over a dozen. It was something of an oddity and most came from Israel."

Today Diyya estimates that there are 10,000-15,000 motorcycles in the territory, most of them made in China.

"A bike costs €550 (Dh2,910) in Egypt and sells here for €800-1,000," he says.

The influx of bikes has also caused road casualties to soar among Gaza's 1.5 million population, with 147 motorcyclists killed and 750 injured since June 2007. "Not a day goes by when hospitals don't receive someone injured in a motorcycle accident," says Dr Moawiya Hassanein, head of Gaza medical rescue services.

For most motorcyclists in Gaza, a two-wheeler is merely an economical mode of transport. But not so for Diyya and his buddies – they are devoted bikers.

"Every Thursday, we meet at my friend's house," he says. "We drink coffee and then we take to the road. From Gaza to Rafah, either along the sea or along the interior. When you're on a bike, you're in another world," Diyya adds. "You feel free."
Keep up with the latest business news from the region with the Emirates Business 24|7 daily newsletter. To subscribe to the newsletter, please click here.
Follow Emirates 24|7 on Google News.