Nothing idyllic about this romantic Eden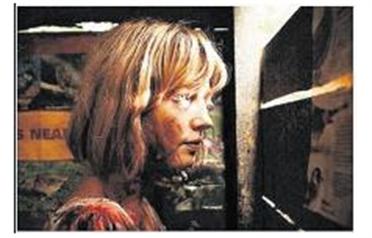 Shot on location in the leafy wilds of Buckinghamshire, Eden Lake begins promisingly. Steve (Michael Fassbender) and Jenny (Kelly Reilly) escape London for a romantic weekend in the country, where he intends to propose.

They head for a beautiful, secluded lake – in reality, a flooded quarry – where Steve and Jenny clash with 16-year-old Brett (Jack O' Connell) and his thuggish pals Harry (James Burrows), Paige (Finn Atkins) and 12-year old Cooper (Thomas Turgoose).

Tensions between the couple and the noisy youths escalate, resulting in the accidental death of Brett's pet Rottweiler. Steve and Jenny flee into the surrounding forest and the youngsters give chase, determined to exact bloody revenge. When her boyfriend is badly injured, Jenny is forced to draw on previously untapped reserves of strength to find help.

So far, so good. Writer-director James Watkins cranks up tension as relations deteriorate between the couple and the local tearaways. However, once Steve and Jenny abandon common sense and decide to return to the water's edge for the night, where they clashed with Brett and co just a few hours earlier, we're left to wonder if they are determined to put themselves in harm's way.

Steve is soon strung up and stabbed to within an inch of his life, and Watkins's script begins to lose grasp on reality, transforming Jenny from prim primary school teacher to gung-ho vigilante.

The film's provocative themes couldn't be timelier; the execution, though, is deeply suspect. The countryside is quickly strewn with mangled bodies, freshly spilt blood and charred flesh and when poor Jenny does eventually escape the forest, she realises to her terrible cost why Eden Lake is a gated community.

DVD Extras include director, actors and producer interviews, behind the scenes featurette, TV spots, theatrical and extreme trailers.
Follow Emirates 24|7 on Google News.