Nothing revolutionary about this outing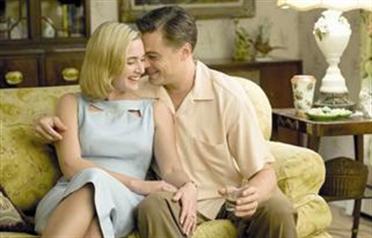 Leonardo DiCaprio and Golden Globe winner Kate Winslet tear each other apart more thoroughly than an iceberg ever could in Revolutionary Road, a brutal – and brutally tedious – depiction of marital malaise.

Director Sam Mendes covered this territory before with more imagination in his 1999 debut American Beauty. And similar to that film, Revolutionary Road carries with it the unmistakable, unwarranted aura of importance, of having something to say about the way we live.

If only we understood DiCaprio and Winslet's characters, Frank and April Wheeler, and felt they were fleshed out as complex beings, we might have experienced the intended emotional impact of their lies and cruelties.

DiCaprio and Winslet (Mendes' real-life wife) are longtime off-screen friends reteaming for the first time since the 1997 uberblockbuster Titanic. They give it their all with energetic, powerful performances. Frank and April come off as cogs in service of facile platitudes about the "hopeless emptiness" of a supposedly idyllic suburban existence.

The source material for Revolutionary Road is actually the novel by Richard Yates about a couple moving to genteel Connecticut with their two kids in the mid-1950s, which Justin Haythe has adapted. Frank takes the train each day to Manhattan, then sits in his cubicle doing a routine job at the same company where his father worked. Drinks with the fellas after work eventually give way to trysts with an adoring secretary (Zoe Kazan).

April, meanwhile, has long since discarded her dreams of becoming an actress in favour of folding laundry and making small talk with the neighbours; Kathryn Hahn is Milly, the pal next door, while Kathy Bates pops by in judgmental fashion as Helen, the agent who sold the Wheelers their house.

But Frank and April had always lived under the delusion that they were extraordinary, and when April hatches a wild plan for the whole family to move to Paris, she provides the spark the marriage (and the movie) needed. She figures she can support them all by working as a secretary at a US embassy, for example, giving Frank the time he needs to figure out what he wants to do with his life.

Naturally everyone, including Milly and her husband Shep (David Harbour), thinks this is a ridiculous plan, not just for its impetuousness but because it undermines traditional gender roles by emasculating Frank.

After a while, Frank and April have made themselves – and each other – so miserable, there seems nothing left to salvage. And since Mendes has kept us emotionally at arm's length with his structured, hermetically sealed production, it's hard to care about whether they'll ever find that elusive something.
Follow Emirates 24|7 on Google News.