O'Brien versus NBC: who will win in court?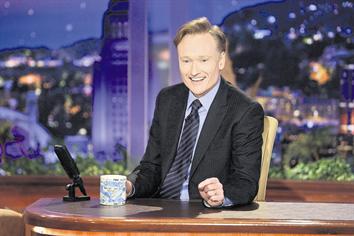 Does Conan O'Brien's contract give NBC the right to bump him to 12.05 to make room for Jay Leno at 11.35?

That is the $40 million (Dh147m) legal question hovering over O'Brien's open defiance on Tuesday of NBC's plan to move his Tonight Show 30 minutes later. Despite all the hoopla, it is really a simple query.

If O'Brien's deal says his Tonight Show will be broadcast at 11.35pm (or the equivalent post-local news slot in the markets that air him earlier), then NBC would be in violation of his contract by attempting to bump him.

If there is not any time-slot language in his deal, O'Brien's refusal to take the 12.05 slot would put him in breach if he does not do his show, presumably allowing NBC to void his deal without paying him off.

NBC has staked its position in the New York Times: "The contract, NBC is arguing, guaranteed Mr O'Brien would be installed as host of The Tonight Show – and unlike many other deals for late-night stars, Mr O'Brien's contract contains no specific language about the time period the show would occupy," NBC executives said.

David Letterman, for instance, has a time-slot language in his deal, so some are blaming O'Brien's lawyers for not thinking ahead and specifying his slot. But it is probably not that cut-and-dried a legal issue. If the breach-of-contract claim ever got to court, perhaps O'Brien could argue that specifying a time slot was not necessary because The Tonight Show has aired in essentially the same time period for decades.

O'Brien, who has hired Hollywood lawyer Patricia Glaser to represent him, already suggested in his missive on Tuesday that moving Tonight essentially makes it a different programme; in other words, he is saying the essence of The Tonight Show is that it follows the local news.

"I believe delaying the Tonight Show into the next day to accommodate another comedy programme will damage what I consider to be the greatest franchise in the history of broadcasting," O'Brien's said.

"I cannot participate in what I honestly believe is its destruction," he said.

NBC would ask where in his deal language it says that, but the history of the show is on O'Brien's side on that issue.
Keep up with the latest business news from the region with the Emirates Business 24|7 daily newsletter. To subscribe to the newsletter, please click here.
Follow Emirates 24|7 on Google News.