One-note Diesel is best thing about Babylon AD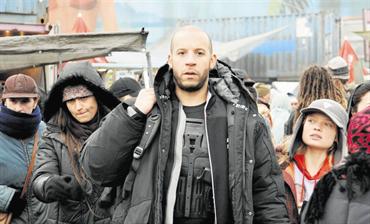 Based on the novel Babylon's Babies by Maurice G Dantec, the sci-fi action thriller Babylon AD melds together elements of The Transporter and Alfonso Cuaron's dystopian fantasy Children Of Men.

Mercenary for hire Toorop (Vin Diesel) is asked to escort a young woman, Aurora (Melanie Thierry), and her protector Sister Rebecca (Michelle Yeoh) from a Neolite convent in Mongolia to New York.

While the Neolite High Priestess (Charlotte Rampling) and her followers keep a close eye on Aurora's progress, the young woman's father, Dr Arthur Darquandier (Lambert Wilson), and his goons observe intently from a distance, waiting for the perfect moment to snatch Aurora from Toorop's grasp.

As the mercenary follows his carefully plotted route through Kazakhstan, across the Bering Strait and on to America, he enlists the services of old friend Finn (Mark Strong) to keep Aurora safe from harm, unaware that the girl is not what she seems.

The film treats each leg of Toorop's journey as a self-contained set piece, including a devastating explosion at a packed train station and a scramble to board a submarine before it descends beneath the ice.

Diesel's growling, one-note performance is more compelling than most of his co-stars, including the usually luminous Rampling. Her stilted portrayal of a religious leader with visions of grandeur elicits almost as much unintentional hilarity as the hare-brained plot.

Thierry possesses youthfulness and beauty, which holds our attention, while Yeoh, Wilson and Strong squander their talents on the periphery. A coda, similar to the first Terminator film, thankfully ushers the beginning of the end.

Extras include Babylon Babies, Weapons Gallery, Arctic Escape and Prequel To Babylon featurettes.
Follow Emirates 24|7 on Google News.