Pink adventures in food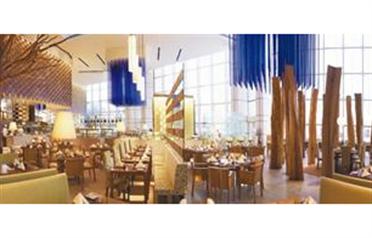 With the credit crunch forcing hotels and restaurants to distinguish themselves, we've been hearing of some innovative concepts around the city in recent weeks, so we were quick to try out the new Pink Brunch at the InterContinental Dubai Festival City.

Having deemed the outdoors too nippy despite the stunning marina view, we opt to enjoy the specially decorated interior – which just manages to steer clear of a nauseating overdose of pink, what with kid-friendly balloons attached to bars of candy, and pink ice flamingoes.

Barely are we in our seats than we're being offered all kinds of nibbles off passing trays. We've tucked into crisp, bite-sized veal pizzas that are perfect with our drinks, scallops plated on tiny shells, a well-paired nibble of prawn and egg yolk, and an assortment of prettily shaped dimsum before we even make a first, tentative investigation of the buffet. Chef Michael Baptiste says there are 320 cold dishes and 24 hot dishes in total, and many stay with the theme, including pink bread.

Having rather peremptorily declared we're bored of all the foie gras in the city and we want some goose liver pâté instead (it materialises at our table in minutes, accompanied by a fine potato cappucino drizzled with truffle oil), we attack the variety of seafood on offer: Oysters (freshly opened and divinely squishy) and some six types of sashimi, including octopus and tuna (pink in keeping with the theme), and most surprisingly, hamachi or yellowtail, which you are usually required to order fresh in top-notch sushi restaurants.

Avoiding any thought of eggy breakfast dishes, we head to truly wide-ranging choice of mains.

There's Indian (British-style butter chicken), Anglo-European (braised duck with red cabbage, roast beef with Yorkshire pudding), Far Eastern (Peking duck, lobster Schezuan and chilli crab) and even the odd Caribbean speciality (jerk chicken). The variety isn't as unusual as the fact that many of these items are served off chafing dishes – and that they manage to retain both flavour and texture.

The Peking duck is worth a try, as is the chilli crab, a soft-shell variation of the Singaporean classic that is meaty, crunchy and spicy all at once.

Though we are almost full, we're determined to try the wide variety of desserts, most of which stay with the colour theme.

The family fun element shows up again: You can pick delightful chocolate truffles off a tree, or opt for a memorable pink chocolate fountain (funny, pink chocolate tastes just like white!).

And of course, there's one dish that must divide the table: If you like rice pudding, the wild rice variation will delight, if not, look to the candy floss.
Follow Emirates 24|7 on Google News.