Polaroid looks to IPO, says instant film is here to stay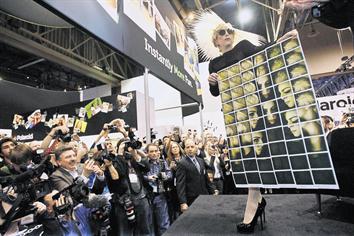 Polaroid, the instant-film company that filed for bankruptcy twice in the past decade, said it may consider an initial public offering after revenue passed $500 million (Dh1.83 billion).

"There is definitely a likelihood that Polaroid will go back to the public markets in the form of an IPO," PLR IP Holdings President Scott Hardy said in an interview at the Consumer Electronics Show in Las Vegas. PLR owns Polaroid's assets following a bankruptcy auction last year.

The 70-year-old company gained a mass following in the 1970s with cameras that printed photos instantly. Polaroid emerged from bankruptcy last year as a marketing and intellectual-property holding company. It licenses the Polaroid name to makers of cameras, digital frames and accessories. Revenue may reach $750m this year from $500m in 2009, Hardy said.

"The biggest asset Polaroid has developed out of the last 70 years is the brand name itself," said Hardy, 37, who took over the company last year.

Hardy declined to comment on the timing of an IPO, saying only that the company is financially healthy and has a "very strong" balance sheet.

Hilco Consumer Capital, a private equity firm, and Gordon Brothers Group, a retail-liquidation consultant, bought Polaroid for $88m in April after it entered bankruptcy the previous year. Hilco Consumer Capital is a unit of the Hilco Organisation. Hilco and Gordon Brothers put the assets in PLR IP Holdings.

Polaroid, based in Minnetonka, Minnesota in the US, also declared bankruptcy in 2001 after adding too much debt and failing to keep pace with consumers' shift toward digital cameras. The Polaroid brand has remained strong with consumers over the years, Hardy said.

"The key thing is to acknowledge that there's been a rocky road, but also to look at the resiliency of the brand," Hardy said. "There's a fan base who loves Polaroid, which says a lot about the strength of this company."

Polaroid said last week it will bring back instant film this year and introduce the PIC1000, a modern version of its OneStep camera. The OneStep printed photos with a white border. The company also named Lady Gaga, a performer whose songs include Poker Face and Bad Romance, as creative director last week. She is key to attracting younger consumers, Hardy said.

Edwin Land founded the company in the 1930s after dropping out of Harvard University. In the late 1970s, Polaroid's OneStep was the best-selling camera of any type.

Growing demand for digital cameras and accessories eroded sales of instant photography-products as well as traditional roll film.

Polaroid sought Chapter 11 protection in December 2008, blaming an alleged $2 billion fraud at its parent company Petters Group Worldwide.

Thomas Petters, the firm's founder, was convicted in December of running what prosecutors described as a $3.5bn Ponzi scheme.

Hilco Consumer Capital and Gordon Brothers have purchased brands from retailers such as Sharper Image, Linens 'n Things and Bombay Company.


Polaroid goes Gaga

Lady Gaga exploded onto the global cultural landscape last year with her massive pop anthems and her fashion-forward aesthetics.

Worldwide she has sold more than eight million copies of her debut album, The Fame, and more than 35 million singles, making her music's biggest breakout star of the last decade.

She is the only artist since the inception of monitored radio airplay to claim five Number 1 hits from a debut album, with songs including Just Dance, Poker Face, LoveGame and Paparazzi.

Lady Gaga, whose real name is Stefani Germanotta, is currently on tour following the release of her new album The Fame Monster. She has also designed her own line of headphones called Heartbeats by Lady Gagam, a collaboration with Beats.

"I am so proud to announce my new partnership with Polaroid as the creative director and inventor of speciality projects," said Lady Gaga.

"Lifestyle, music, art, fashion: I am so excited to extend myself behind the scenes as a designer, and to – as my father puts it – finally, have a real job."
Keep up with the latest business news from the region with the Emirates Business 24|7 daily newsletter. To subscribe to the newsletter, please click here.
Follow Emirates 24|7 on Google News.