Posh nosh that defies the crunch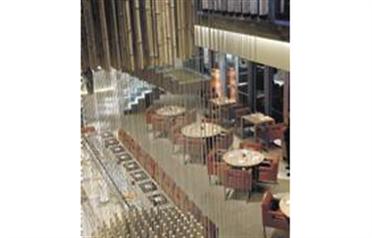 We were trying to be Posh, so we began with the edamame.

Lightly steamed with just a smattering of thinly delicate salt crystals, the tender beans took the edge off our hunger while leaving us in anticipation of what was to come.

At Dh110, Zuma Dubai's new Ebisu lunch menu combines the most popular of its à la carte picks into a healthy four-course set that offers both detox options and palate cleansers.

But we're guessing Victoria Beckham and her WAG friends braved the Sheikh Zayed Road traffic from New Dubai to the Dubai International Financial Centre simply because the restaurant's reputation precedes it. And she isn't the only one. Michel Rostang and Giorgio Locatelli both pop by when they're in town.

The afternoon we were there, though, a local dignitary had booked out the private room, and we spotted several heads of DIFC-based companies. The credit crunch seemed far away in that rather crowded lunchroom and Zuma Operations Director Elmer Pichorner told us this month has been the restaurant's busiest since their opening six months ago.

Perhaps the seaweed salad has something to do with it. Served after an excellent miso soup, this combination of different seaweeds (pink and green) topped with sesame sauce is typical of Zuma's ability to elevate the Japanese food experience. Contrary to the more quotidian chewy texture preferred by several city restaurants, the varying consistencies of the different sea leaves played off each other in a quiet but pleasing harmony.

Two other dishes came with it. Four almost paper-thin slices of seabass with a yuzu truffle dressing were a momentary burst of flavours on the tongue; and a rather average combination of maki rolls that couldn't keep up with the sensory overload of the other dishes, except for the unagi (eel) rolls, which were rolled with egg and then topped with unagi.

In Japanese tradition, each portion is rather minimal in itself, but by the time we were ready for our fourth course, our stomachs were already sending out signals not to over-eat.

Perhaps there really is something to that slow food movement after all.

And so to our mains, an assortment of crisp and colourful tempura, and a rather spectacular stir-fried beef in sweet sesame and chilli sauce that was accompanied by rather grand-sounding but disappointing grilled rice. The beef on its own, though, should come with an umami alert.

Posh would probably agree.
Follow Emirates 24|7 on Google News.