Puzzle games win it for Nintendo's Wiiware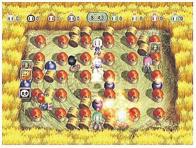 When Nintendo started its WiiWare download service last May, the range of its original games was laudable, with the action, puzzle, strategy and simulation genres all represented.

The games themselves weren't all great, but the promise was there.

Eight months later, the WiiWare library has more than 60 titles, some first-rate, some mediocre and some just awful. Overall, it's a decent selection, particularly if you like puzzle games – which comprise more than 30 per cent of the offerings.

WiiWare still trails both Microsoft's Xbox Live and Sony's PlayStation Network as far as original games go. And the Wii hardware creates another issue: Its limited memory means you can only store four or five games on its hard drive.

We look at some of the best games since the service was launched:

World of Goo (2D Boy, from Dh50): This independently developed gem is by far the most buzzed-about game on WiiWare. It's a puzzle game whose "characters" are a bunch of endearing blobs of black oil, and the challenge of each level is to guide them to an inconveniently placed pipeline.

You can manipulate the blobs to form towers and bridges, but the structures are wobbly and all too prone to collapse. Many levels appear impossible until you figure out the physics of the goo balls, and it's very rewarding when you reach one of those seemingly unreachable goals.

Art Style: Orbient (Nintendo, from Dh20): There are three Art Style games featuring minimalist graphics and mellow soundtracks. Orbient is the most addictive. You control a star moving across galaxies; using gravity and antigravity, you can absorb stars, attract satellites or avoid black holes. Using only two buttons, it's simple yet challenging.

Tetris Party (Tetris Online, from Dh40): The latest version of the block-dropping classic adds two compelling new solo modes. In Shadow, you're given a silhouette, and you have to fill the space without letting blocks go beyond the edges. In Field Climber, you use the blocks to build a tower for a tiny animated man to climb. Add online competition and optional use of the Wii Fit Balance Board and it's a keeper.

Maboshi's Arcade (Nintendo, from Dh25): Here are three very simple – perhaps too simple – games based on geometric shapes. Three people can play three different games at once, and what makes this arcade interesting is that actions in one game affect objects in the other two. It's a fascinating, if not entirely successful, experiment.

Strong Bad's Cool Game for Attractive People (Telltale, from Dh36 per episode): This series, now up to five episodes, features characters from the beloved Homestar Runner web comic. The stories are very funny, and the point-and-click puzzle solving will appeal to fans of the graphic adventures of the eighties and nineties.
All games are available online at www.nintendo.com/wii/wiiware
Follow Emirates 24|7 on Google News.