Rahman recycles, while Dev D lends new voice to an old tale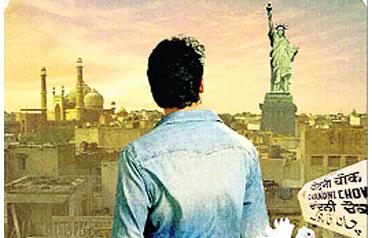 With Valentine's Day staring us in the face, here are two Bollywood soundtracks that portray the emotion of love in two very distinct flavours.

Dev D: Offering a whopping 18 tracks on the album, it is quite evident composer Amit Trivedi had creative freedom to experiment with a menagerie of pop sounds for a Bollywood soundtrack.

Yet, with so much happening on one CD – rock, bhangra, fusion and classical – the niche audience is not really evident. Trivedi, however, manages to weave in a dark underlying thread to create a mood that is grim, yet funky, for this modern-day retelling of the doomed love story of Devdas – complete with sex, drugs and rock'n'roll.

And this brings us to opening track, Emosanal Attyachaar, which is already blazing through the music charts. Elvis Presley meets your typical Indian brass band with trumpets blaring. The track is quirky and ridiculous, yet too cool to ignore.

A rock version, Emotional Attyachaar, also features, utilising Bonnie Chakrabo-rty's versatile vocals perfectly with complex guitar riffs.

Other tracks that emerge winners on Dev D include the bhangra-pop Mahi Mennu, the soulful Duniya and the semi-classical Paayaliya.

If you enjoy rustic rhythms, do not miss the Punjabi folk flavouring of Hikknaal or the traditional Rajasthani sounds in Pardesi, Dhol Yaara Dhol and Ranjhana.

Dev D is not set to release in the UAE due to its controversial content, but we recommend the album for those fed-up of your typical Bollywood ballads this Valentine.

Delhi-6: After bagging awards and accolades for Slumdog Millionaire's music, AR Rahman's Delhi-6 is good, but is it good enough to live up to his current star status?

Supporters of the maestro defend the album, citing unrealistic expectations from the musical genius – which he undoubtedly is – but many greats have been victims of their own fame and it appears Rahman may be adding himself to the tally.

Delhi-6 almost seems like an amalgamation of tracks that Rahman has handpicked from his previous albums, remastered them and clubbed it all together for this film.

Masakali is a perfect example – a signature Rahman tune that merges two distinct melodies into a single composition and teams it with Prasoon Joshi's lyrics that probably feature no where in any language dictionary.

The sufiesque Arziyaan, picturised in Delhi's famed Jama Masjid, sees Rahman attempting to pull-off another Khwaja Mere Khwaja (Jodha Akbar), but doesn't quite reach the same richness.

The title track and Hey Kaala Bandar may remind you of the earlier collaboration of Rahman, Joshi and director Rakeysh Omprakash Mehra in Rang De Basanti, and you wouldn't be too far off the mark if Masti Ki Paatshala pops in your head.

At this stage in his career Rahman needs to experiment with his sound. Thankfully, ballads Rehna Tu and Dil Gira Dafatan come as a breath of fresh air. Rahman lends his voice to the former, teaming up with blue-eyed boy Benny Dayal for a soothing romantic rendition. Other tracks include the traditional sounding Bhor Bayae, Aarti and Genda Phool.
Follow Emirates 24|7 on Google News.