Scorsese, DiCaprio mix it up with latest film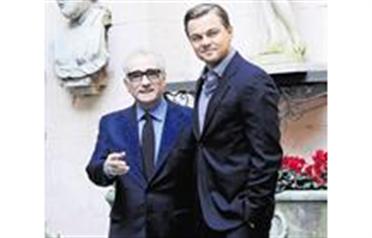 Martin Scorsese is keen to revive a cinematic partnership with Robert De Niro that goes back to Mean Streets nearly 40 years ago and says the project will be related to the mobster world.

The 67-year-old movie maker was at the 60th Berlin film festival for the premiere on Saturday of his latest picture Shutter Island, his fourth collaboration with Leonardo DiCaprio.

"Bob De Niro [and I] are talking about something that has to do with that world," Scorsese told reporters after a press screening of Shutter Island, where the audience reaction was decidedly muted. "There's no doubt about that. We're working on something like that, but it's from the vantage point of older men looking back, none of this running around stuff."

Rumours that Oscar-winner Scorsese may be reviving one of film's most successful collaborations have been rife for years, as fans look back with nostalgia to classics such as Raging Bull, Taxi Driver and Cape Fear.

The Hollywood heavyweights last worked together on Casino in 1995.

For now, attention is focused on Shutter Island, starring 35-year-old DiCaprio as US marshall Teddy Daniels in a psychological thriller set on a wind-swept, rugged island that is home to a high security psychiatric hospital.


Fear and paranoia

In the story based on a Dennis Lehane novel, he and his partner Chuck are brought in to hunt down a killer who has mysteriously escaped from her cell leaving no trace. Daniels, traumatised by memories of the Nazi camps he liberated as a US soldier, becomes increasingly suspicious of a wider conspiracy and the boundaries between conflicting realities gradually blur.

Lehane's work has also been adapted by Clint Eastwood (Mystic River) and Ben Affleck (Gone, Baby, Gone).

Asked why the movie was not in the main competition line up in Berlin, Scorsese jokingly replied: "What if it didn't win?"

In Shutter Island, which hits US theatres later this month, the director aims to recreate what he calls an atmosphere of paranoia and fear prevalent in 1950s America when he was growing up during the Cold War.

"I experienced the 50s first hand in New York City, the cold war, the paranoia, the secrecy," he said. "In cinema itself, the movies I would go and see reflected this."

Definitive director

For DiCaprio, Shutter Island was possibly the hardest part he has had to play for Scorsese, along with The Aviator in which he portrays the wealthy but increasingly deranged aviator and film maker Howard Hughes. Asked why he kept coming back to Scorsese, he said: "You'd be a fool not to jump at the opportunity to work with somebody who I consider, and many consider to be the definitive director or our time. You'd be an idiot."

He said the traumatised Second World War veteran he plays is the most demanding role he has done for the director ahead of its world premiere on Saturday.

"It is a fascinating character study of how a human being deals with extreme trauma," DiCaprio said of the role. He said he had come into his own as an actor through his work over the last decade with the Hollywood legend.

DiCaprio first acted for the director in Gangs of New York. He said he would "only have his fingers crossed" to act for him again.

"He's got this infectious love of cinema and it rubs off on everyone on the set. We share the same tastes – we have the same kind of commitment to make the best possible film we can."

Scorsese, 67, had not released a feature film since 2006's The Departed, also starring DiCaprio, which won him the best directing Oscar – the first of his four-decade-long career.

Trust, inspiration

Scorsese said he had taken inspiration from watching DiCaprio grow as an actor since his breakout role in 1993's What's Eating Gilbert Grape.

"As he's maturing as a person, that life is being channelled into the actual work," he said.

Scorsese said the "trust factor" with the actor had allowed him "to be able to focus that and perfect that and be part of that" process.

The premiere was scheduled one day after fellow veteran director Roman Polanski returned to the big screen with The Ghost Writer, which also drew praise from critics. Shutter Island also stars Ben Kingsley, Mark Ruffalo, Max von Sydow and Michelle Williams.

The film had been kept under close wraps until its premiere but sneak previews granted to a handful of critics have garnered rich praise.

"It's a true oddity, an outlier, as isolated and enigmatic as the gloomy, rain-whipped island on which the action takes place," The New York Times wrote this month.

"The hero, a federal marshal named Teddy Daniels, is a tormented soul, the type of man to whom Mr Scorsese has never been a stranger."

The Berlin Film Festival runs until February 21.


BANKSY FOR BERLIN

Elusive British graffiti artist Banksy was due to walk the red carpet yesterday as he presented his directorial debut in Berlin but organisers said he would stay incognito throughout event.

The globe-trotting Banksy, whose true identity is a mystery but whose work can be seen on city walls around the world, is screening Exit Through the Gift Shop out of competition at the 60th Berlin Film Festival.

"He'll be there but no one will see him. No one has ever seen him," Berlinale director Dieter Kosslick told reporters.

A festival spokesperson said Banksy was due in Berlin but would not attend a press conference for the film and would only present a short video statement before its screening. The renegade painter remains a mere apparition in the documentary too, appearing only with his face and voice distorted.

Dubbed "the world's first street art disaster movie", the picture diverts its focus from him, concentrating instead on French videographer Thierry Guetta and his insider look at underground artists at work.

Banksy, whose work has surfaced in the West Bank and now sells for tens of thousands of dollars at auction, calls the picture "a film about a man who tried to make a film about me".

It is also a biting commentary on the commercialisation of the art world, showing how the either mad or genius Guetta becomes an overnight media-driven sensation in Los Angeles.
Keep up with the latest business news from the region with the Emirates Business 24|7 daily newsletter. To subscribe to the newsletter, please click here.
Follow Emirates 24|7 on Google News.