Shaking up brand Bachchan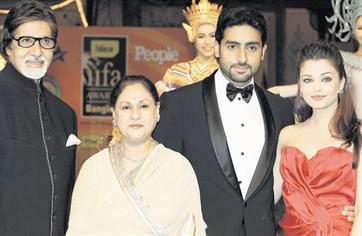 Forty years ago, Bollywood superstar Amitabh Bachchan laid the foundation of a brand that would define an industry. Sixty endorsement deals, Rs9 billion (Dh667 million) and 180 films later, the Bachchan family franchise has found a torchbearer in scion Abhishek.

The Indian actor, who will be in the UAE on Wednesday for the world premiere of the UTV film Delhi-6 – co-hosted by Dubai International Film Festival – may still have a long road ahead to achieve his father's cult status.

Yet the past three years have witnessed a turning of the tides for the star who was once written off after a string of box-office disasters.

But big films and even bigger brands are now weighing down his goodie basket – all the ingredients needed to rate an actor's success in Bollywood – with the junior Bachchan's recent box-office tally averaging nearly Dh6.7bn from his past five hits alone. A tidy sum, many would say, for an actor whose career spans less than a decade, and who cannot guarantee a film's initial weekend business the way Shah Rukh Khan does.

"I've been lucky with my last few films but I'm always aware there is never any constant," Abhishek told Emirates Business in an exclusive interview. "It is never a cushy life and even if I am a Bachchan, I have never looked for a fast fix. You work hard and maintain the link to reality that whatever goes up will come down."

The ever-modest 33-year-old, who even describes his childhood as growing up in a normal middle-class family, may preserve his grip on reality, but early supporters have always maintained Abhishek's success graph would follow that of his father – a string of flops, followed by one hit. But on the other hand, Amitabh's iconic status was the stuff of legends that few have ever lived up to.

If the task wasn't difficult enough, when he married top actress and former Miss World Aishwarya Rai Bachchan in 2007, Abhishek found he was competing with another bankable A-lister. And this one came ready with a ticket for Hollywood and a bag full of endorsements estimated by Forbes at more than Rs2bn.

The weak-hearted would have buckled under the pressure, but it seemed Abhishek was made of sterner – and smarter – stuff. While actively pursuing his acting career, the star son is looking to make a success in an area that his father rather spectacularly failed at: The bankrupt family production house, Amitabh Bachchan Corporation Limited (ABCL), which went under in 1997, leaving the family heavily in debt.

"I am also working in our production company," the actor said, refusing to be drawn on the details. "Nothing has been finalised yet, but we are developing a lot of scripts."

Abhishek doesn't deny his enterprising side, saying you need to be savvy to survive in any industry. In his case, films are chosen carefully and endorsement deals scrutinised under a microscope.
"When you are endorsing a brand, you are lending your name to a product, requiring you to find some common ground," he said. "To me it is very important that I believe in the product I lend my name to. And most importantly, I use it on a daily basis. I wear an Omega watch, I use a Motorola phone, my credit card is American Express and my mobile service provider is Idea. You can't be dishonest to people you are selling to."

He proves his point by showing off his watch and his phones and whipping out his wallet. Considering his father readily admits he endorses just about anything to pay off his debts, Abhishek's ethics remain intact. Yet acting on screen is one thing but in a boardroom, the rules are quite different. Can he revive a multimillion-rupee conglomerate, considering his father has always maintained his lack of business skills?

"From my past experiences with ABCL, I have realised that I am not a good businessman," Bachchan senior told Emirates Business last September.

But Abhishek is defiant. "I'm not a novice at the game. My first job, in fact, was as production boy at ABCL, nearly 13 years ago at a salary of Rs1 per month [his pocket money must have been startling, we reckon]. I later graduated to a production executive, an assistant director and then finally entered acting."

Many would think reviving a once-failed company is such global financial turmoil would be foolhardy but the Guru actor believes the entertainment industry has not been too hard hit.

"I read an article that in times of recession the two industries least affected are liquor and entertainment. However, we need to take into account that in today's day and age everything is interrelated so the entertainment industry must be affected," he said.

"There are so many other factors that now go into making a movie. Corporates and private enterprises are now investing in films. But if they have fingers in other pies and those investments are affected, they may not have the extra cash for films," he said.

Yet ABCL is largely looked upon as an independent producer in a world of corporates, so what's the guarantee it can survive now?

"The studio system doesn't really exist in India," Abhishek said. "It's always been the independent producer. The corporates have come in now but they fund independent producers. We are not Hollywood.

"And regardless of a film's budget, if you were making one six months ago at a shoestring budget of Rs50m, today even that Rs50m film will face a tough fight being sold to distributors.

"We have taken the financial setbacks into account before planning our move."

To put him to the test, we ask him for a tip for first-time investors, but he sidesteps the question and said: "Lately, it isn't smart to invest in anything. But in business you have to do what you believe in; if your heart is not into it, it usually spells disaster."

Like the economic crisis?

"Most definitely. It will take at least a couple of years for world economies to bounce back. It is quite a severe blow across the board."

Some of Abhishek's savvy comes from operating a hefty personal investment portfolio, one he largely handles himself. "It is important to know your own finances," he said. "I don't like to play the [stock] market; I'm more a mutual funds sort of guy. Plus, real estate is always a good investment because you know it is eventually going to appreciate."

Is this the reason he splashed out on a lavish villa in the Jumeirah Golf Estates' Sanctuary Falls? "You can never look on a house as just an investment or something to live in. It's a bit of both."

A bit like investing in the family business, ABCL, to secure your future?

"I am my father's son after all," came the parting shot.


Did you know?

- The actor's real name is Abhishek Srivastav. Bachchan was a pseudonym used by his grandfather, poet Harivansh Rai.

- As a child, he was reportedly dyslexic.

- He abandoned his studies in Boston when his father went bankrupt.

- Abhishek was engaged to actress Karisma Kapoor before things soured between them in 2002.

- His next film, Raavana, is due to be released this year and casts him opposite wife Aishwarya.
Follow Emirates 24|7 on Google News.