Something old and something new…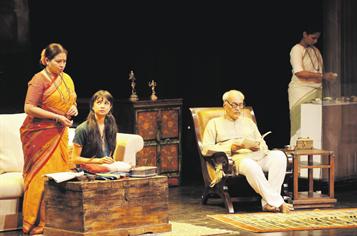 The Wedding Album, a new play by Indian actor and playwright Girish Karnad, opened to a packed house at the Dubai Community Theatre last week.

The English-language production offers a humourous take on the way Indian families are changing to keep pace with modern society, while still attempting to cling on to their traditions and roots.

Produced and directed by veteran actress Lillete Dubey, the story revolves around middle-class Hindu parents whose children are approaching 'marriageable age'.

Cast as liberals – they have no problems with their son dating a girl from another religion – yet they are willing to let their daughter enter an arranged marriage. But unlike in the past, when the bride and groom from a small Indian town would only see each other at the nuptials after just one meeting, here the girl's parents take great pains to go "hi-tech".

They find a suitable boy from the USA for their daughter (Ira Dubay) and ensure the couple exchange as many emails, texts, phone calls and photos before the wedding so they can "fall in love".

They even threaten to call off the wedding if the prospective groom (a brilliant Raaghav Chanana) does not land in India on the agreed date so he has a few weeks to get to know his prospective bride. However in the end, just like a traditional Indian couple, the pair agree to be married – though they hardly seem compatible. The big occasion is the familiar picture of a family coming together to celebrate and reaffirm loyalties, but behind the smiles simmer long-suppressed suspicions, jealousies, frustrations, aggression – all situations that are exploited to comic effect.

The action, however, could have been a little faster paced, as the play started to drag after the first half.

But the producer could not have asked for a stronger or more seasoned set of players.

The cast, comprising veteran theatre artists like Utkarsh Mazumdar, Smitha Jaikar, Pravashi Desai, Rajev Paul and others, was most impressive and together they delivered the plot to perfection.

Jaikar and Mazumdar were very convincing in their roles as the hyper and emotional mother and crusty old father who, despite their best efforts to appear "modern", were living in the past.

And Seema Azmi as the disgruntled but caring elder sister and Paul as the ambitious and sometimes arrogant son, did justice to their roles.

Chanana, who had a small role in the play as the NRI bridegroom, deserves a special mention because of his brilliant performance.

It is not easy for someone so young to shine in a cast full of heavyweights from the world of Indian theatre, but he delivered an unforgettable performance.

On the whole, The Wedding Album is an enjoyable play that has its poignant moments which altogether make for an entertaining evening.
Follow Emirates 24|7 on Google News.