Stage fright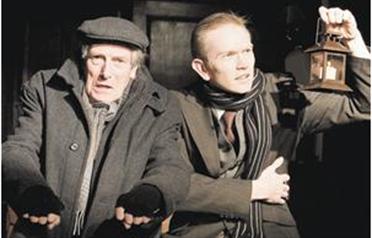 Eel Marsh House stands tall, gaunt and isolated, surveying the endless flat saltmarshes beyond the Nine Lives Causeway, on England's bleak East Coast. Here Mrs Alice Drablow lived – and died – alone.

Enter solicitor Arthur Kipps, who has been ordered to sort out her papers – but he is unaware of the tragic secrets behind the house's shuttered windows. When he glimpses a ghostly young woman with a wasted face, dressed all in black, he is determined to find out who she is: but none of the locals will acknowledge her existence.

If the stock markets weren't terrifying enough, you can now pay to be scared out of your wits at the theatre when The Woman In Black opens in Dubai on Wednesday.

Adapted from the book by Susan Hill, the horror mystery is one of the world's most successful plays, running in London's West End for the past 20 years, where over three million people have seen it.

The ghost story is brought to Dubai by Popular Productions, which is behind such successful productions as Stones In His Pockets, Educating Rita and Disney's High School Musical. This play, a Dubai Shopping Festival event, features two accomplished West End actors in the roles of The Actor and Arthur Kipps, with haunting direction by John Payton.

"It has been seen in over 40 countries, and we felt its international success, its unique story, made it the right time to bring the show here and give UAE audiences the scare of their lives," laughs producer Lucy Blakeman, who says UAE audiences are eclectic in their tastes.

The demand for something different has been driven by city audiences, she says, and already, pre-sales are going well – with city schools that are studying the novel leading the charge.

"We're delighted to be doing a straight two-week run in Dubai, because this allows for word of mouth and repeat bookings," she tells Emirates Business.

Despite the credit crunch having impacted business at top theatres, with some major shows in London and on Broadway closing early, Blakeman says good productions will continue to fare well. "In the UAE, we have found that the industry is anything but being affected. There is a vibrancy for the performing arts and a great demand for good entertainment."

The Woman In Black From January 28 to February 6 at the Madinat Theatre. Tickets Dh160, call 800 4669


Ahoy Annie

Here's your chance to play little orphan Annie and sing It's The Hard Knock Life to your heart's content, as auditions for the award-winning Broadway musical Annie kick off in Dubai on February 13.

Annie is the story of a little orphan girl surviving in depression-era New York.

After the success of last year's High School Musical – Live in Dubai, Popular Productions, in association with The West End Stage Experience, is bringing this classic to the Madinat Theatre from April 8.

With a complete Dubai-based cast, organisers are looking for two actresses to play Annie, along with a host of talented girls as her friends, aged between seven and 14 years. Parents with a knack for acting can also try out for the adult parts.

Auditions will be held at the Dubai Community Theatre and Arts Centre. Details are at www.annieonstage.com.
(Bindu Rai)
Follow Emirates 24|7 on Google News.