Steven Tyler could sue to ensure Aerosmith spot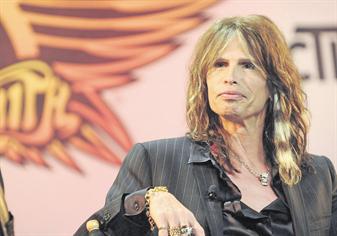 Amid continuing reports of other singers being approached to front Aerosmith, Steven Tyler and his handlers are taking steps to reassert his position in the band.

Tyler's Los Angeles-based lawyer, Skip Miller, fired off a letter to Aerosmith manager Howard Kaufman last week, independently obtained by Billboard.com, requesting that Aerosmith's management "immediately cease and desist from engaging in acts and conduct to the harm and detriment of your own client, Aerosmith, and our client who is one of its members".

Miller subsequently told Billboard.com that on behalf of Tyler he has called a meeting of Aerosmith's "shareholders" on February 9 to discuss the band's future, including such matters as the recording of a new album and tours this year of Europe and South America. The four-page letter also states that "we reserve all of our legal rights and remedies in this matter, including, without limitation, pursuing legal action for damages and other appropriate relief".

"Steven Tyler does not want lawsuits," said Miller. "We do not want to go in that direction. The direction we want is Aerosmith, with Steven Tyler, touring in Europe, touring Latin America, releasing a new album... This is the direction it's all intended to go. It's just amazing to me current management would be taking any other position."

Aerosmith's management declined to comment. Miller says he has not yet received a response from Kaufman or any of Aerosmith's other representatives. As for what the next step will be if Aerosmith continues with its search for a new singer, Miller said: "We'll cross that bridge if and when we come to it. I hope we don't. I don't think we will."

Tyler is undergoing therapy for a painkiller addiction brought on by orthopaedic problems. The location of his treatment is unknown, but recent public appearances – singing karaoke at a bar in Palm Springs, California, and signing autographs and singing over the public address system at a Home Depot in Rancho Mirage – led to speculation that he is at the nearby Betty Ford Center.

Miller says the January 27 letter was prompted by Aerosmith guitarist Joe Perry's recent comments in the Canadian press about replacing Tyler and by a meeting earlier in January attended by Kaufman; Tyler's music lawyer, John Branca; and Tyler's new manager, Allen Kovac of 10th Street Entertainment. Kaufman, according to Miller, "said point blank he didn't think Steven should be part of Aerosmith, flat-out said the band would be better off without Steven – which, in my opinion, is a very questionable management decision by a fiduciary". Miller's letter said: "Can you imagine the manager of the Rolling Stones calling for the replacement of Mick Jagger? It's just absurd... Tyler is very unique, distinctive. Steven is Aerosmith, along with the others. He's the guy the public knows."
Keep up with the latest business news from the region with the Emirates Business 24|7 daily newsletter. To subscribe to the newsletter, please click here.
Follow Emirates 24|7 on Google News.