Surviving 30 years of murderous tyranny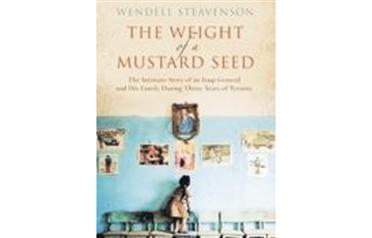 Wendell Steavenson is a clever woman. In her book, The Weight of a Mustard Seed, she asks why able and intelligent people served the regime of Saddam Hussein.

I see the point of the question, having encountered the white-faced officials in Saddam's entourage during a diplomatic call on the Iraqi despot when he was at war with Iran in the 1980s. Unlike Steavenson, however, I didn't expose myself to danger to find the answer.

Best known for her book about the Georgian republic, Stories I Stole, she is determined to discover how the servants of a vile tyranny – soldiers, lawyers, scientists – squared their actions with their consciences. Steavenson interviewed former Iraqi notables amid the bloody aftermath of the United States-led invasion in 2003.

Her main subject is General Kamel Sachet, a hero of the Iran-Iraq war, a ferocious conflict of which Henry Kissinger once remarked, 'Pity only one can lose'. By getting inside the general's family she gives us a flavour of why the upper echelons of Iraqi society went along with a murderous tyranny.

Sachet's motivation lay in the loyalty of a highly professional soldier. Yet he retained independence of spirit to distance himself from the regime. He didn't plot against it. Nor did he, like others, flee abroad. He instead retreated into Islam. Put out to pasture as a provincial governor, he practiced a pietism – notably shutting down bars – that irritated Saddam's violent sons, Uday and Qusay, and inevitably led to his execution.

The author's accounts of how senior officials of the regime could themselves be persecuted, imprisoned and tortured are savagely frank. And her analysis of their attempts at self-justification proves psychologically deft.

Yet there are important gaps in this book, such as the link between Sachet's religion and his fatalistic submission to authority. Steavenson is also reticent when it comes to pointing morals. That's just as well, because when she does her conclusions can be sophomoric.

There is a deeper problem. Steavenson has written a poignant study of what it means to be an accomplice to evil. Yet I am surprised at her surprise that such things happen. Millions of Chinese still revere the murderous Mao Zedong. Russians cried when Josef Stalin died. And many a German fought to the last to defend the Führer. This tells us little about the qualities of these leaders, but much about the human condition.

A final problem is her self-conscious Parisian style. Her sentences can be precise and factual. They can also be overcooked, self-conscious and novelettish.
Follow Emirates 24|7 on Google News.