Teen singer a hit as Bieber fever infects all ages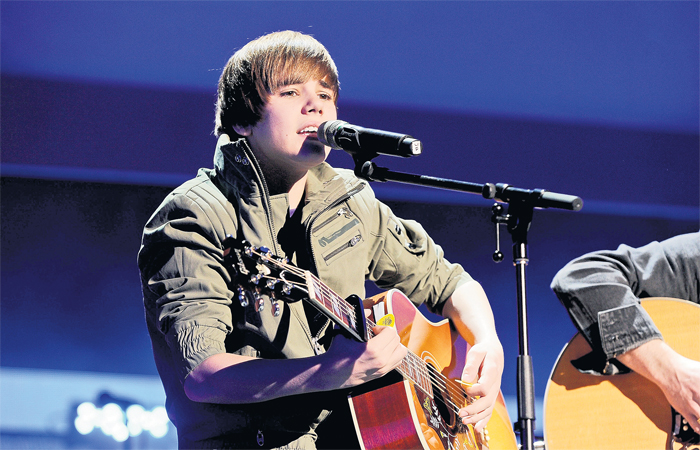 "He causes riots everywhere he goes, and my mom loves him almost as much as I do!" sputters a blonde girl in a bubble-gum-pink sweater, flanked by two other breathless tweens. You'd have to be on a severe pop-culture fast not to know which star they're kvelling over, but in any event, they let his name be heard loud: "Justin Bieeeberrr!"
It's 10 o'clock on a Thursday morning and of the hundreds packed into New York's Hammerstein Ballroom, roughly three dozen are kids who have managed to secure VIP seats. Bieber is performing at Nickelodeon's 2010 "upfront" presentation to advertisers, where the youth-centric network is announcing its new slate of programming. After sitting attentively through pitches about "igniting fan position" and supercharging the SpongeBob SquarePants franchise, the Biebermaniacs, necks craned, phones and Flip cams in hand, angle to capture a frame of the most famous 16-year-old in the game.
"Your world is my world and my heart is your heart," Bieber sings in a sweet tenor, perched on a stool and strumming the melody of his first hit, One Time, on an acoustic guitar. Then he launches into his new single, Baby, bounding through choreography, thwacking his drummer's kit, rapping Ludacris' guest verse and clutching his chest during swoon-worthy lines like "We will nevah-evah-evah be apart." Afterward, Bieber sticks around to change the lives of a few brace-faced girls, who hug the lip of the stage and clutch their Converses in hopes of an autograph.
"He-signed-my-shoes-and-my-arm-and-my-cell-phone," says Stephanie Mordoh, a breathless eighth-grader from Westchester who's here with two friends. "He's just so talented and amazing." Bieber poses for a few photos and fields some on-camera questions. On the Jonas Brothers-vs-Justin Bieber inter-fan beef (their shared initials are partly responsible, as anyone under 16 will tell you), he calmly says, "Our fans seem to fight and I don't know why. But I don't care, you know? It's whatever." Five minutes later, he's gone, whisked away by his handlers to the next appearance.
Climb to stardom
Since being plucked from his hometown of Stratford, Ontario, Bieber has grown from a 13-year-old with a popular YouTube account into a sensation touring with Taylor Swift and boasting sales and social-network stats that rival those of any Disney star. Bieber's debut album, My World, was released in November on Island through the Raymond Braun Music Group (a 50/50 joint venture between R&B star Usher Raymond and Bieber's manager, Scott 'Scooter' Braun). It arrived at No 6 on the Billboard 200 with 137,000 copies and has since sold one million, according to Nielsen SoundScan, a total likely boosted by iTunes' Complete My Album campaign.
Four tracks – One Time, One Less Lonely Girl, Favorite Girl and Love Me – were released before the album, and all charted, making Bieber the first solo artist to have four top 40 singles before the release of his debut album. All seven of the album's songs have charted since, for a total of 3.3 million in individual track sales.
Bieber is releasing My World 2.0, his second album in less than five months, today. Once again, four tracks already have been released to iTunes, one of which, Baby, debuted at No 5 on Billboard's Hot 100. Label executives declined to provide a specific sales projection, but Island Def Jam Music Group (IDJMG) plans to ship one million copies of My World 2.0 in its first week of release – a sharp increase from the estimated 300,000 to 400,000 copies shipped of My World in its first week.
"I've heard the forecasts, which make me smile because they're a lot higher than what they thought last time," Braun says. "Last time, the research team (at IDJMG parent company Universal) told the label that we would sell 30,000 to 60,000 records from November 17 to December 31. (My World sold 728,000 through SoundScan's last chart week of 2009). Now they have a different outlook, and part of me is nervous because it's easy to be underestimated and then prove people wrong. It's not as easy when they have such high expectations."
Those expectations, however, are the result of Team Bieber's ability to harness his vast online fan base. "So many artists have internet traction but are not able to attach anything to it and make money," Def Jam Executive Vice-President Chris Hicks says. "We monetised almost every corner of My World, every record we released charted. That's why we sold albums and not singles over the holidays. People could feel confident that they were buying into a burgeoning superstar."
The single One Time was released in spring 2009, but it didn't pick up steam until midsummer, when the video hit YouTube, where Bieber's subscriber base already stood at 40 million. One Time debuted at No 95 on the Hot 100 in late July, and traditional media outlets gradually caught on to the notion that a viral sensation without any national TV presence had fans eager to forge a deeper connection.
Biebermania
"He had such a huge online fan base that our biggest challenge was, 'How do we convince the traditional partners we work with that this kid is real, that these viral fans really exist?'" IDJMG Senior Director of Marketing Gabriela Schwartz says. "So we did the more traditional promo tour and started getting out some of our creative assets, and we saw immediate reactions."
Top 40 WHTZ (Z100) New York Programme Director Sharon Datsur describes an online chat that Bieber did for the station in September 2009. "When the chat started, it nearly crashed the system, and we had record-breaking numbers for any celebrity chat we've ever done. We started playing his music shortly after that."
Bieber's "Today" show performance on October 12 drew more than 2,000 fans, according to NBC, the most of any act in 2009. Things got out of hand at a much-publicised November 20 appearance at Long Island's Roosevelt Field Mall, where a surging crowd led to the event's cancellation. IDJMG Senior Vice-President of Sales James Roppo was arrested and held overnight by Nassau County police for not sending a tweet from Bieber's Twitter page that instructed his fans to disperse. (Only Bieber and Braun know the password.) Roppo wouldn't speak about the incident, which is still under investigation, but Braun says his lawyer is cooperating with authorities.
The Nassau County district attorney's director of communications, Carole Trottere, said in an e-mailed statement, "We are working with the attorneys for Def Jam Records to further investigate what happened on that day. We are also in the process of looking into the level of responsibility held by the various corporations involved in the event and their agents."
Mature sensibility
In the middle of all this pandemonium is a kid whose music is quickly catching up to his popularity. Bieber turned 16 on March 1, and My World 2.0 reflects a more mature sensibility. It has dance-pop ear candy like Somebody to Love and Runaway Love, a slow-burner ballad in Up, a catchy Sean Kingston collaboration in Eenie Meenie and a potential career-maker titled U Smile, a piano-driven ballad that directly addresses Bieber's devout followers.
Needless to say, Bieber is pretty tired these days. Between interviews and appearances, he studies a required three hours daily. "School sucks," he says defiantly. His handlers also make sure he gets at least one day off per week, to just relax or play sports (basketball, hockey, skateboarding). About 30 of his friends were flown to Los Angeles for his 16th birthday, where he sumo wrestled with Young Money upstart Lil Twist. "I'm only 16 once," Bieber says. "I've got to live like it."
In the same breath, though, he announces that he's excited to tour throughout 2010. Bieber will headline arenas and theatres in 40-plus North American cities, and he says he's confident he can sell out New York's Madison Square Garden. "I just think that I have enough fans, so I could pull in the people. I don't really get nervous anymore."
Bieber doesn't let cries of "teen pop fad" faze him, either. "There's more people that like me than there are who hate me, so I kind of brush it off," he says. "People say, 'Oh, people just like him because he's pretty.' Or the funniest one: 'When he goes through puberty, he's not going to be a good singer anymore.' How does that make sense when we've seen people like Michael Jackson and Usher and Justin Timberlake do it?"
Millions of daughters and moms uniting for the common cause of Bieber fever surely won't hurt sales. But it's clear that the biggest driver in all of this is Bieber himself, who still replies to his fans on Twitter as though the past whirlwind eight months haven't turned his world upside down. "I still (use Twitter) as much as before," he says. "People write to me and say, 'I'm giving up, you're not talking to me'. I just write them a simple message like, 'Never give up', you know? And it changes their life." (Reuters)
Follow Emirates 24|7 on Google News.