Tenor Villazon for comeback at Vienna opera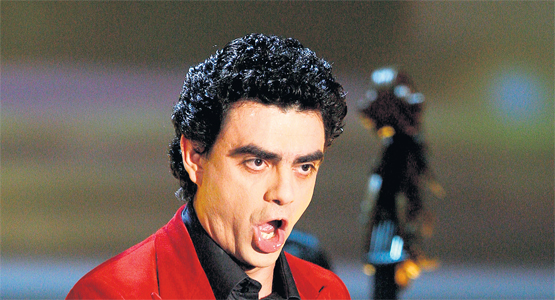 In the opera world, all eyes will be on the Austrian capital today when Mexican star tenor Rolando Villazon makes his stage comeback at the Vienna State Opera.
Villazon, 37, who has now had to put his career on ice twice due to problems with his vocal cords, will sing the role of Nemorino in a one-off performance of Donzetti's best-loved comic opera, L'elisir d'amore. He is then due to sing the role of Lensky in Tchaikovsky's Eugene
Onegin in Berlin later this month.
The bubbly singer with his trademark mop of black hair cancelled all his engagements last year after a cyst was found on his vocal cords. Villazon, who shot to super-stardom alongside Russian soprano Anna Netrebko in Verdi's La Traviata in Salzburg in 2005, had already been forced to take an extended break from the concert platform and opera stage in 2007.
At the time, he blamed the self-enforced sabbatical on burnout rather than physical or vocal issues. The explanation was certainly not hard to believe: with his unruly hair, his perennial grin and seemingly indefatigable good mood, Villazon has sometimes been seen as some sort of operatic clown.
His unquenchable thirst to venture into ever new territory – his repertoire, on disc at least, ranges from Monteverdi to even small Wagner roles – and the turbo-charged intensity and commitment of all of his performances led many critics to warn that he could be overstretching himself.
So when he announced last April that he would undergo surgery to remove a cyst from his vocal cords, some observers suggested his career might be over for good.
In a video message on his website in November however, he announced that his voice "is back". "I wanted to make some important decisions about my career, about repertoire and about some productions," Villazon said. "And this is only due to the fact that I want to come back in the best situation possible. I am very, very excited," he said and signed off by singing Ciao on a top A.
According to a spokesman for the Vienna State Opera, Villazon has been in good form at the rehearsals this week. "He is here. He is rehearsing and everything looks as if things will run smoothly on Monday [today]," the spokesman said.
Villazon's record company, Deutsche Grammophon, released a brand new album entitled – rather unimaginatively – Tenor last month, in time for his comeback dates.
The CD is a collection of some of the best-known tenor arias, ranging from Handel to Verdi and Puccini, to Leonard Bernstein and Andrew Lloyd Webber.
After his performances in Vienna and Berlin, he will give Handel recitals in Hamburg, London, Paris and Munich; recitals with French pianist Helene Grimaux in Paris, Verbier and Salzburg; a performance of Verdi's La Traviata in Zurich; and another performance of L'elisir d'amore in Munich.
For many in the classical music world, Villazon put his credibility on the line by appearing as juror in a classical talent show on British TV, entitled Popstar to Operastar, with some critics accusing him of losing all sense of dignity, even if he saw it as a way of breaking down barriers in opera.
But he may be able to regain some of that credibility when he tries his hand at stage direction for the first time in 2011, with a production of Massenet's Werther at the Opera de Lyon. Werther is perhaps one of his most famous roles as a singer.
Villazon's single performance in L'elisir d'amore in Vienna this evening has been sold out for months.
Follow Emirates 24|7 on Google News.