The latest French President dominates in this brand new title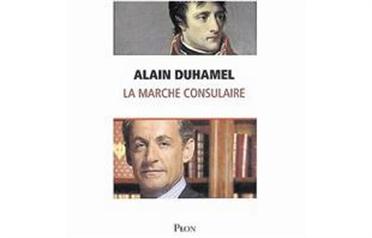 Nicolas Sarkozy isn't the first French president to remind his countrymen of Napoleon Bonaparte. Charles de Gaulle, though a foot taller, was also likened to the authoritarian Corsican.

In La Marche Consulaire (The Consular March), author Alain Duhamel diagnoses the Napoleonic traits in Sarkozy's character and behaviour, laying out the similarities to Bonaparte in the years when he was still First Consul and not yet Emperor.

Duhamel is a respected French political commentator whose reputation took a hit in 2006 after he published Les Pretendants, a book about 14 presidential candidates. His list of pretenders to the republican throne overlooked Segolene Royal, the Socialist who ran against Sarkozy.

His latest book omits nothing. Like Napoleon, Sarkozy displays boundless ambition, nervous energy, egomania, eloquence, media savvy, a hunger to be in the limelight, a desire to control everything, questionable taste and a most un-French aversion to lingering over meals, Duhamel writes.

That's just for starters. Both men are outsiders: Sarkozy has a Hungarian father and a Greek grandfather. Both came from modest backgrounds. And both suffered as boys for being shorter than most of their classmates.

Duhamel is careful not to push the comparison. He knows that the differences between the two men are at least as important as the parallels. Sarkozy, after all, seized power in democratic elections, not in a coup d'etat.

Forget, too, the frequent comparison between their ex-wives, Josephine and Cecilia. Napoleon divorced Josephine because he needed "a belly" to bear him an heir. Cecilia did her matronly duty, and left Sarkozy.

Napoleon fades into the background for long stretches in this book, as Duhamel analyzes Sarkozy's first 18 months at the Elysee. The author divides his presidency so far into three stages. There was an initial period of ostentatious triumphalism, followed by a stretch of turbulence in his private life. Now Sarkozy has reached a period of "flexible pragmatism." That sums things up neatly, though it's hardly an original discovery.
Follow Emirates 24|7 on Google News.