The man behind the lens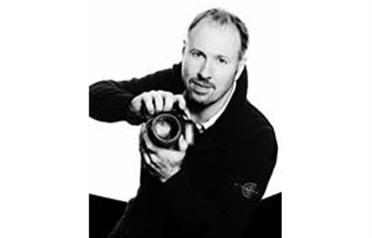 Photographer Stu William-son sits in the upper reception area of his headquarters in Umm Suqeim, where a white palate is broken up with hints of silver through the cushions and lights.

As one – and some would say the main – pioneer of black and white portrait photography in Dubai, he sits surrounded by images of clients. Smiling families or individual children dressed in his trademark look of jeans and white shirts adorn walls in all public areas of the villa, which enjoys a prime position on Beach Road.

"Black and white images have longevity – they are timeless pieces of art. It strips out distractions that a colour image sometimes has and doesn't date in the same way," says William-son, who runs the company with his wife, Corenna, and business development manager James Reynolds.

The trio had spent weeks looking for the perfect location before finally settling on Umm Suqeim, thanks to the upmarket area and prime position for passing trade.

"Beach Road is like the Park Lane of Dubai," he says referring to the London street. "Because we are a visual company, it was all about aesthetics. Versace wouldn't have a place in Al Quoz and we couldn't either as we had to stimulate the passing crowd."

Part way through the interview we are forced to move rooms as another client comes in for their shoot. The studios themselves, while large are pretty bare. White screens dominate one end, while the other is filled with different props, such as chairs, a rocking horse and boxes – some of which will add a splash of colour to the shots. But the predominate theme – despite the red sofa and rug in the main reception – is black and white; even the staff are dressed this way. Sessions last about an hour with the photographers shooting a number of poses and backgrounds, some of which the clients make up themselves.

It's all very composed from the outside but open the office door and behind lies a hive of activity as specialists touch up photos and prepare them for framing.

"What differentiates us, apart from the higher quality image, is the experience of coming here. It's the whole concept," he says. "We thought about it long and hard and that's our USP."

The 52-year-old has been taking pictures for 30 years but only moved to Dubai three years ago after deciding he had taken his UK business as far as he could. He was planning to set up in Singapore but realised there was a gap in the market here.

"We had to decide why this was and realised very early it was because people hadn't been educated about family portraits. It was a new concept here," he says. "We were at the top of our game but found that we were prohibited in expanding the business to the levels we wabted by employment laws. The tax implications of keeping the UK studio open [after we came here] were also ridiculous so we decided to close it."

The gamble has paid off though as Williamson now heads a team of 40. It also helps having Reynolds on board as he takes care of the business-side while William-son concentrates on the creative aspects. The company still has vacancies and cannot get pictures developed quickly enough – there is a five-week waiting list for some shoots and then another five to six weeks for the images. But the firm continues to grow. Last year revenue grew 58 per cent, although Williamson will not reveal what that means in terms of money and they are hoping for 50 per cent growth this year mainly through expansion of the corporate and school portraiture arms.

A shoot ranges from Dh195 for the single portrait experience to an infinite amount. The largest picture of 150cm costs Dh5,250 while shots can also be put onto canvas.

"People think we are expensive and for some we are, but not everyone. People don't have to come and spend thousands, they can just buy on their level," says Williamson, who chose a career in photography over being a professional drummer. "We don't want to be known as the most expensive studio but people like to buy pictures from us."

While shoots from Williamson's 10 staff photographers all cost the same, a session with the master is free but customers must spend at least Dh10,000 on pictures, which he believes is good value for money.

"People get the whole experience because I go to their home and design the pictures to fit around them. If their children play musical instruments, for example, we do pictures around that," says the Briton, who hails from Leicestershire. "It seems like a lot of money but a lot more work goes into this than studio shoots."

Although Williamson is self-taught he still had to gain the same professional qualifications as those who learn at university. He trains his team to the required standard and sits on the judging panel of the British Institute of Professional Photographers and the Master Photographers Association. Proving that Dubai has continued to have a positive effect on his career, the Briton flew back recently to collect his latest award – for digital fine art from the Society of Wedding and Portrait Photographers – for an advertising campaign for a Sharjah-based juice bar.

Williamson, who lives close to the studio with Corenna and their son Kai, four – he also has two adult children from his first marriage – says the credit crunch has not affected them. Even though some would choose to forego such luxuries, the photographer says it's not actually that expensive in the scheme of things.

"These pictures will be on your walls for years – how many cars will you go through in that time," he asks. "A picture is worth its weight in gold because you always have the memory."

Reynolds adds: "We get a huge amount of repeat business – we've had people come four times in the past three years." They also cater to royalty, while some Emirati clients like to have shoots done in both traditional and Western clothing. This year will also see the start of the brand's ambitious expansion plans; they will launch a concept store in conjunction with Kodak at The Dubai Mall, then hope to go further afield.

"Long term, we'll expand into the region but given the current climate, we're spending this year building the platform for 2010 onwards," says Reynolds.
Follow Emirates 24|7 on Google News.