There's no sign of Stephen Fry (on Twitter)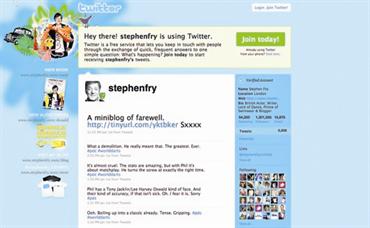 He really meant it this time. When Stephen Fry decided to call time on his social networking at the beginning of the year, fans could not quite believe it. But since January 1, the British star is nowhere to be seen on Twitter.com.

The 52-year-old self-confessed 'technophile', who has more than 1.2 million followers on his Twitter page announced he was departing the world of micro-blogging in order to concentrate on writing a new book.

"This morning I switch off most of my connections with the outside world, for I have work to do," he posted. "I must deliver a book to my publishers by the end of April. My Twitter stream will dry up for that period.

"Some people can write with ease in whatever circumstances they find themselves. I, unhappily, am not made of this material.

"I need peace, absolute peace, an empty diary and zero distraction. Accept my apologies for what must be."

Many fans initially thought that Fry would return almost immediately, considering he had made a similar announcement last October saying he was to close his Twitter page. He retracted the intention the next day.

But judging by his page this time around, it seems the decision is for real.

Fry is one of the most followed celebrities on Twitter. Last November, his account had reached a staggering one million followers.

The star is not the first high-profile user to quit the website publicly.

Lily Allen deleted her account last year after a backlash against her support for penalising those who illegally download music.

Miley Cyrus also quit Twitter, blaming newspapers for using her updates as source material for articles.

She said: "Everything that I type and everything that I do, all those lame gossip sites take it and make it news."
Keep up with the latest business news from the region with the Emirates Business 24|7 daily newsletter. To subscribe to the newsletter, please click here.
Follow Emirates 24|7 on Google News.