This year in film – what could possibly go wrong?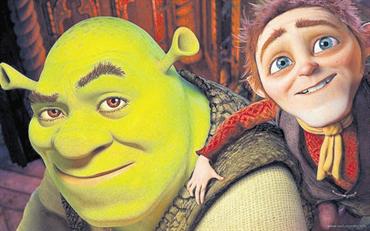 Can the New Year live up to what was a rotten old year for everybody but the movie business? There are never any guarantees that films will perform, and movies usually look best sight unseen.

On the other hand, the first half of 2010 does include some franchise instalments that should be safe box office bets – like Iron Man 2, Shrek Forever After, and Wall Street 2.

Emirates Business considers the possibilities.

JANUARY

The four-day Martin Luther King holiday weekend (January 15 to 18) is the New Year's first shot at beefy box-office business in North America, which somewhat indicates what kind of success a film would have in the UAE market.

Warner Bros hopes to score with The Book of Eli. Directed by Albert and Allen Hughes (Menace II Society), it's a post-apocalyptic action-adventure starring Denzel Washington and Gary Oldman. However, will audiences want another post-apocalyptic vision?

WB's thriller Edge of Darkness could end January with a blast as Mel Gibson returns to action with Martin Campbell (Casino Royale) directing. Gibson's a Boston homicide detective whose daughter's been murdered.

But how bright is Gibson's post-DUI star power?

FEBRUARY

New Line has the perfectly titled romantic comedy for Valentine's Day in Valentine's Day, directed by Garry Marshall (Pretty Woman) with an ensemble cast including Jessicas Alba and Biehl. Its intertwining tales of LA romance should be a magnet for women dragging their husbands and dates.

Moviegoers can also set sail for Paramount's Shutter Island. Directed by Martin Scorsese (The Departed), the thriller stars Leonardo Di Caprio. Shutter, originally set for release in 2009, has the weekend to itself, a good sign that competing studios expect it to do well.

MARCH

March should come in like a lion with Disney's 3D Alice in Wonderland. Directed by Tim Burton (Edward Scissorhands), it stars Johnny Depp as the Mad Hatter. Mia Wasikowska plays 19-year-old Alice falling down the rabbit hole once again. However, will audiences warm to Burton's idiosyncratic vision?

The action crowd will check out Warner Bros and Legendary Pictures' adventure Clash of the Titans.

Sam Worthington plays Perseus, who's trying to save his family from Hades (Ralph Fiennes) and wants to seize power from Zeus (Liam Neeson).

APRIL

Fox could make big money with Wall Street 2: Money Never Sleeps. Directed by Oliver Stone (Wall Street), it stars Michael Douglas and Shia LaBeouf.

However, it has been 23 years since the original opened and viewers may have had enough of real-life Wall Street shenanigans.

The month should end on a lively note with New Line's A Nightmare on Elm Street, starring Jackie Earle Haley as Freddie Krueger.

But at the end of the day, how many visits to Elm Street do moviegoers want to make?

MAY

The pre-summer box-office should start sizzling with Paramount and Marvel Entertainment's Iron Man 2, directed by Jon Favreau (Iron Man). Robert Downey Jr returns as Tony Stark/Iron Man and Gwyneth Paltrow is back as Pepper Potts. The original grossed $318 million (Dh1.16 billion) domestically after opening in May 2008 to $99m.

Universal has a brand-name action-adventure in Robin Hood. Directed by Ridley Scott (Gladiator), it stars Russell Crowe and Cate Blanchett and may wind up in 3D.

DreamWorks and Paramount have the third week of May all to themselves with the 3D animated family franchise Shrek Forever After. Its all-star voices include Cameron Diaz, Mike Myers, Julie Andrews, Antonio Banderas, Eddie Murphy and Jon Hamm.

Then there's Disney and Jerry Bruckheimer's male fantasy action-adventure Prince of Persia: The Sands of Time. Directed by Mike Newell (Harry Potter and the Goblet of Fire), it stars Jake Gyllenhaal. It's an original, which is never easy, but its roots are in a video game, which means it could pull in the fanboys.

JUNE

The summer box-office heats up with Disney and Pixar's 3D animated family franchise Toy Story 3. Tom Hanks and Tim Allen return to voice Woody and Buzz Lightyear.

Teen and tween girls will turn out for Summit's Twilight Saga: The Eclipse, starring Robert Pattinson, Kristen Stewart and Bryce Dallas Howard. The franchise's last episode New Moon grossed $280m so it's a safe bet that as summer approaches Hollywood will be seeing the kind of box office fireworks it most enjoys.
Keep up with the latest business news from the region with the Emirates Business 24|7 daily newsletter. To subscribe to the newsletter, please click here.
Follow Emirates 24|7 on Google News.