Toon in as Emirati grannies look to world domination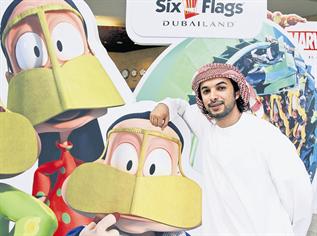 As he prepares to take his Emirati characters international, Mohammed Saeed Harib, the creator of the 15-minute-an-episode animation series Freej, says he has to go at it slow and steady.

Despite the huge success of the series in the UAE and regionally, Harib, who announced the decision last week, tells Emirates Business that a number of factors have to be looked into to make the product suitable for audiences outside of the Middle East.

"We'll need to change our position from 'the first UAE animation series' to 'a window into Arabia' or something along those lines. There's a lot of inside jokes that only people here will understand, for instance, and we'll need to make all of that relevant," he says.
Harib, whose Lammtara Pictures debuted Freej during Ramadan four years ago, revealed last week he was in talks with "reputed" distributors to take the animated series beyond Arabian shores.

"We've covered the local and regional market quite extensively now and it seems like a natural step. The markets we are initially looking at will be South East Asian countries such as Malaysia, Indonesia and also in India, Turkey etc, countries which have similar cultures to us," he says.

Last year, Kuwait-based Teshkeel Comics and American giant DC Comics reportedly signed an agreement to launch a joint project. Although details of the collaboration have not been revealed, those following the developments say it is likely global super heroes such as Superman and Batman might soon appear alongside characters of The 99 – based on a comic book which features characters who personify the 99 attributes of Allah, according to Islamic tradition. The 99 were created by Kuwaiti psychologist Dr Naif Al Mutawa in 2006.

Harib, who wouldn't reveal details since he is bound by a non-disclosure agreement, says the distribution will cover all aspects of the Freej brand, which will include the animated series and the merchandising.

"This is a brand new strategy for us. I'd be lying if I said this was our plan all along," he says.

The first episode of Freej, the Arabic word for neighbourhood, aired in 2006, based on the story of four Dubai grannies as they try to make sense of the world transforming before their eyes. Dressed in colourful traditional clothes and headdress, their adventures quickly captured the imagination of viewers in the UAE and the Arab World – and became one of the highest rated shows during Ramadan, one of the most lucrative periods for television programming in the Middle East.

Two years later, Freej merchandising was launched, followed by a release of DVD sets with English subtitles. Then came a series of well-executed appearances and product placements, before Freej became a household name.

Of the now ubiquitous grannies, Um Saeed is the wisest and most sarcastic; Um Saloom is the good-natured one who suffers from slight memory loss, while Um Allawi is the most sophisticated and a stock market geek while Um Khammas is the hard-headed rebel of the bunch.

Despite their combined talents, the modern world can be a baffling place for the scheming grannies, who in one episode try to trick a woman into swapping houses after discovering that the government is offering generous compensation for houses destroyed in the construction of Dubai's new metro. They end up with a huge pile of debt instead.

"It's a fish-out-of-water story," Harib, 30, says. "It celebrates culture, who we are, our dialect and music… in a city boosted by capitalism."

The grannies also stirred up their fair share of controversy when in 2007 Freej touched on the issue of religious extremism. In one episode, rebel Umm Khammas turns to religion upon learning she might die in a few days and goes on to preach to others.

The episode sparked hot debate on Arabic radio stations in the UAE, with some calling for the series to be banned, forcing Harib to appear on one station to explain his stance. "I think there was a slight misunderstanding from our end as well. We didn't take into consideration the mental age group of our viewership. Sometimes when you do smart things, it flies over your audience's head. So it's how you deliver it," he says.

Harib, who came up with the four characters while trying to create an Arab superhero back in college, says he will focus on TV broadcasting for now, and will not consider creating a Freej movie at this point, citing the popularity of television in the Arab World as opposed to films.

Each Freej series costs about Dh500,000 to produce, making it one of the most expensive Arab shows to be made, he says, adding that funding came from merchandising, sponsors and television advertisers.

As is tradition, Season 4 will premiere this August during Ramadan and Harib is looking at elements to include from the city. He has already included the Dubai Metro and is mulling the idea of featuring the world's tallest building, Burj Khalifa.

Like many of his compatriots, Harib says he set out to create Freej because, like his fictional grannies, he wanted to combat some of the diluting effects of the modern world on Dubai culture.

"Some people said culture is boring but I wanted to repackage it and show that we do have our own culture and traditions," he says.

Freej's international outing won't include shows targeted at Western audiences just yet, he adds.

"We are looking at the Western market but that will be the next step after this because that will need a little bit more work. The cultural aspect of the entire Freej project is very similar to those in the Asian markets we are going into. For the Western market, we will need to change certain things so as to make it relevant for them.

"But if this deal goes through, Freej will be the first Arab media project that's gone international," he adds.

Harib, who hopes to sign the agreement for distribution in the first half of this year, says he is not anxious about reception.

"Animation travels very well globally and I am confident it will be well-accepted," he says. "But whether it works or not, it will still be the icing on the cake. Freej was only intended for an inside audience, for the UAE. But look at where it's gone." (With input from Reuters)
Keep up with the latest business news from the region with the Emirates Business 24|7 daily newsletter. To subscribe to the newsletter, please click here.
Follow Emirates 24|7 on Google News.