Top five new books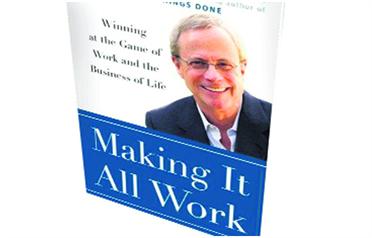 1 The Element: How Finding Your Passion Changes Everything

by Ken Robinson Dh111

The element is the point at which natural talent meets personal passion. This book is about how we can all find our element and connect with our talents. Creativity expert Ken Robinson believes that we are all born with natural capacities, but we lose touch with them as we get older. He shows that age and occupation are no barrier and that there is an urgent need to enhance creativity and innovation by thinking differently about ourselves.

2 What Would Google Do?

by Jeff Jarvis Dh115

What's the question every business should be asking itself? According to Jeff Jarvis, it's What would Google do? If you're not thinking or acting like Google – the fastest-growing company in the history of the world – then you're not going to survive, let alone prosper, in the internet age. An indispensable manual for survival and success and an astonishing book that will change the way readers ask questions and solve problems.

3 Game Over: How You Can Prosper in a Shattered Economy

by Stephen Leeb Dh68

You already know about the devastating recession we're in; jobs are being cut by the tens of thousands, real estate values are plummeting and retirement plans are going up in smoke. Bestselling author and investment advisor Dr Stephen Leeb shows you how to not only survive in the current economic maelstrom but actually find a way to thrive. He provides a clear-cut financial road map to protect every investor in the years to come.

4 Making it all Work and the Business of Life

by David Allen Dh85

Following Getting Things Done, David Allen leads the world on a new path to achieve focus, control, and perspective. Throw out everything you know about productivity – Making It All Work will make life and work a game you can win. Allen shows us how to excel in dealing with our daily commitments, the unexpected, and the information overload that threatens to drown us.

5 Motivate Like a CEO: Communicate Your Strategic Vision and Inspire People to Act

by Suzanne Bates Dh98

In this follow-up to Speak Like a CEO, Suzanne Bates helps leaders at every level become a "force of influence" within their organisations, generating excitement and instilling accountability that culminates in superior results for all concerned. The author offers key advice on how those in charge should articulate their vision of the future in a way that motivates everyone in the company to act.
Follow Emirates 24|7 on Google News.