Turn the beat around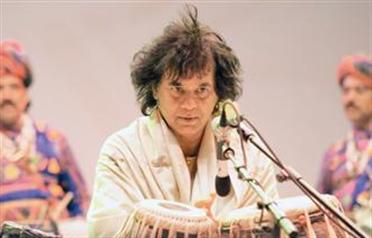 The last few decades saw many triumphs and tragedies in the music industry: At one end music moguls-turned-entrepreneurs were trailblazing through showbiz, and at the other was Michael Jackson's spectacular fall from grace.

Yet, amidst the hoopla stood a musical prodigy with a dream, one that would later turn Ustad Zakir Hussain into a legend in the classical genre and single-handedly revive an art form that was fast losing ground with the MTV generation. Under the Indian tabla maestro, Indian classical music suddenly became cool and the world woke up to a new sound of world music: Jazz percussion meets traditional raagas (notes).

"I don't see myself as a saviour of the arts, but someone who is passionate about his music and that energy transcends to the audience," the Grammy-winner tells Emirates Business ahead of the RNH Events-organised Sangam concert on January 30 at the Dubai Tennis Stadium. "And when you put together musicians with the same heart, you discard preconceived notions about classical music and discover a new sound for audiences."

Touring since he was 12, Hussain is as much his own man as he is the son of the legendary tabla player Ustad Alla Rakha – remembered even today for his mesmerising performances with sitar maestro Ravi Shankar. As the driving force behind Hussain's rise to fame, many traditionalists criticise the younger man's deference from his father's classical sound to pursue his own in world music. Quiz Hussain and he sees it differently. "Comparisons will exist because the greatness of Ustad Alla Rakha defined his 70-year career in music. He accomplished the unimaginable and I represent the lineage.

"Naturally, my father is a tough act to follow, but I took the best of his teachings and learned from it. But I express it in my own way. You can't be a photocopy because copies usually end up in the trash."

Critics, however, go further with their accusations of Hussain's commercialisation of the classical genre, but even here the 57-year-old has a point to make. "Any music is commercial these days. You can't play to empty seats; you need to sell tickets, otherwise why would organisers even bother with artists?

"I care about the traditional art form, but so did those before me. The only difference is, 100 years ago those musicians didn't have recordings to present their sound. When the teachings passed down the generations, the original sounds were changed as each artist brought his own personality to their music.

"Certain people tie themselves up, saying traditional music has to sound a certain way. But that could apply just about anywhere. Older poets wrote in a classical language, which by no means applies that today's poets are watered down versions."

So, classical is not losing out to pop music?

"There is no comparison," explains Hussain. "Bollywood pop is for the masses, while traditional Indian music doesn't present well to larger audiences. For classical, you need to have intimate surroundings, where you can make eye contact with your listeners."

And it's this very belief that has propelled Hussain into the limelight. With a career spanning five decades (he picked up his first tabla aged seven), Hussain has released several world music albums, composed for films (Ismail Merchant's The Mystic Masseur, Bernardo Bertolucci's Little Buddha to name few), acted in others, won a Grammy in 1992 for Best World Music Album, launched his own label with Moment! Records and even composed the opening music for the 1996 Summer Olympics in Atlanta, United States.

With a legacy that cannot be denied, where does this music maestro go from here?

Ask him, and Hussain turns whimsical. "I am on a legacy of discovery, a road I've been treading since I was born. My philosophy is simple: Never be a master, always a student."


Zakir Hussain on the record

Tell us more about Sangam?

Sangam is the name of a group that was co-founded by myself, the legendary jazz musician Charles Lloyd and drummer Eric Harland. For Dubai, we have kept things more commercial by including Shankar Mahadevan, Selvaganesh, U Srinivasan and Taufiq Qureshi.

So Sangam is similar to your other collaboration, Shakti?

Sangam was created years ago. Charles called me one day, asking me to head up to Santa Barbara and jam with him. When I asked how I should tune my tabla, his response was 'to the key to the universe'. So we jammed and our first record was born.

Similarly, John rung me up from New York one day and asked me over to jam for his guru. I jumped on board and recorded our fast track there for Shakti.

Has the credit crunch affected you?

Our schedules were decided a year in advance, so much hasn't changed. But future concerts in the West will feel the pinch. Artists like me are not really affected, but musicians like AR Rahman and his entourage of 60 musicians will take a hit.

Speaking of Rahman, what do you make of his award wins for Slumdog Millionaire?

Rahman is a genius. It's not just this one film or one composition, but greatest second coming in the music industry.

Many see the inauguration of US President Barack Obama as a second coming for the world. What do you think?

We can't judge the genius of Obama just yet. Currently, he's just a one-hit wonder.
Follow Emirates 24|7 on Google News.