Two superstars to share the same stage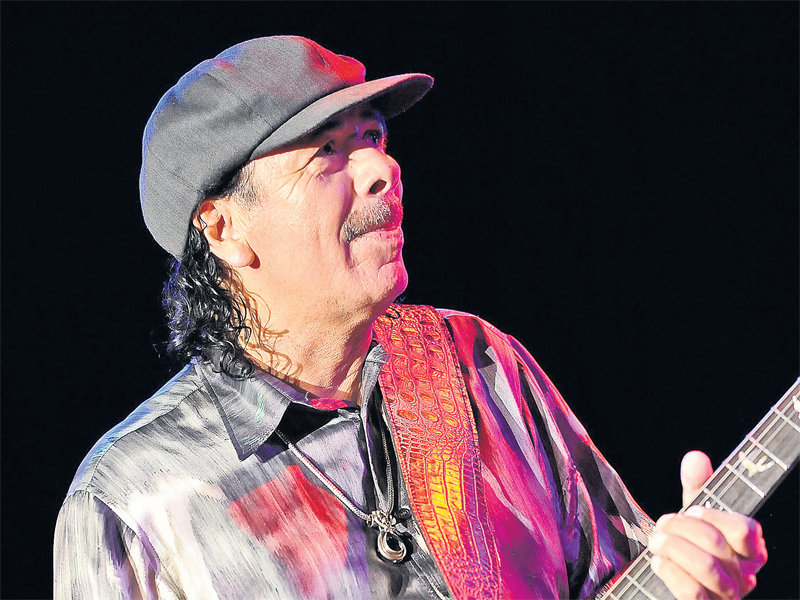 This weekend sees the return of two musical legends to the Emirate.
English singer-songwriter, composer and pianist Elton John and Mexican rock guitarist Carlos Santana are scheduled to appear live at the Meydan this Saturday, March 27.
The duo are to perform in the evening after the 15th Dubai World Cup takes place. The artists will also be making history as Saturday marks the official launch of the world's largest integrated racing facility, the Meydan Grandstand and Racecourse.
So ahead of the event, Emirates Business takes a look at the history of both artists. Who will you be watching?
The artists
—Elton John: One of the best known artistes of his time; John was introduced to the international stage early on with his self-titled breakthrough album and hit single Your Song.
Four decades on, he has received a knighthood from Queen Elizabeth II, an honorary doctorate from the Royal Academy of Music, and holds an unmatched record of 60 concerts at the legendary Madison Square Garden in New York.
He is officially the fourth most successful artist of all time, only beaten by Madonna, The Beatles, and Elvis Presley at third, second and first place respectively.
—Carlos Santana: Named by Rolling Stone magazine as one of the greatest guitarists of all time in 2009, Santana owns one of the world's best-known musical signatures.
The Mexican has been the visionary force behind artistry that transcends musical genres, generational, cultural and geographical boundaries even long before the "world music" genre was named. For more than 40 years, Santana's ever-evolving sound has always been ahead of its time in its universal appeal, and today registers as ideally in sync with the 21st century's pan-cultural landscape.
Statistics
—EJ: With 90 singles and 32 albums totalling nearly 500 tracks to date, Elton John is widely credited as one of the world's most dynamic musicians. He is also the artist of the biggest selling single of all time, Candle in the Wind, which sold more than 37m worldwide.
—CS: Santana has sold more than 90 million records and reached more than 100 million fans at concerts around the globe, won 10 Grammy Awards and three Latin Grammys.
Singles
—EJ: Candle in the Wind is obviously the biggest single to date, staying at number one for 15 weeks. Other top songs include Your Song, Friends, Don't Go Breaking My Heart, Tiny Dancer, Rocket Man, and Don't Let The Sun Go Down On Me.
—CS: According to the Recording Industry Association of America, Santana's best-selling singles are Smooth, Maria Maria, and Into The Night, and each have been certified Platinum.
Business ventures
—EJ: John became chairman of the then Fourth Division Watford football club in 1973. In 1992, he founded the Elton John Aids Foundation. Additionally, every year since 2004, John opens a temporary shop called Elton's Closet, in order to sell thousands of items from his wardrobe for charity.
—CS: Santana recently opened a chain of upscale Mexican restaurants in the US called Maria Maria, a combined effort with Chef Roberto Santibanez.
Live shows
—EJ: Having previously performed in Dubai and Abu Dhabi, guests can expect a fantastic live performance, with a plethora of hits from the years.
—CS: Santana has also performed in the region, and the last time he played Dubai, he offered a selection of his best known hits.
Tickets
Saturday's dual headliner concert is expected to commence after the last race at about 10.45pm.
Dubai World Cup Apron Views tickets start from Dh350 and Dubai World Cup Golden Circle tickets for up close access to the arena start at Dh600. Call: 04 367 6699 or visit www.dubairacingclub.com.
Follow Emirates 24|7 on Google News.