U2 continues to divide fans and foes with new album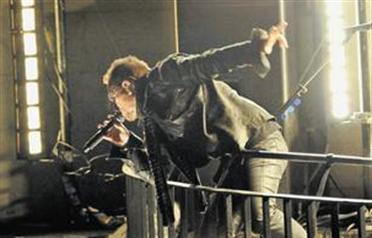 U2 is a group that divides the world, for all Bono's efforts to spread peace and harmony.

Maybe it is because of the frontman's globetrotting, grandstanding and speechifying that the act draws mixed reactions even after 140 million albums sold. For all who pillory Bono as a pompous do-gooder, there are plenty more who see him as a sincere man who has saved lives.

The early release online of the quartet's newest effort after an Internet leak has stirred up both sides of the argument. The group's 12th studio album, No Line on the Horizon, is pretty good, although unlikely to bridge the chasm between U2 bashers and U2 lovers. In truth, it was never likely to be bad: The band have worked on dozens of song ideas since mid-2006, moving between Morocco, Dublin, New York and London. Some of the most expensive producers were involved – Rick Rubin (whose sessions don't make the cut) and U2's old collaborators Brian Eno, Daniel Lanois and Steve Lillywhite. Interscope Records had tried to impose tight security for critics: No review copies and only listening parties with recording devices not allowed.

But after Universal Music Australia put the album on digital sale online briefly, it began to appear all over the web – and U2 started streaming it on the MySpace site in some countries. (When it finally went on sale this week, it sold 65,000 on its first day in the UK.) Detractors immediately billed this was a publicity ploy after a lukewarm welcome to the single Get On Your Boots performed at the Grammy and Brit awards shows. But fans were elated. Bloggers hailed the return of 'the best band in the world,' anticipating a slew of Grammys next year.

The tuneless single is about the worst thing on the 53-minute album, which hasn't as many memorable hooks as The Joshua Tree (1987). Still, it is a definite grower. Bono images himself as a host of personalities: A weary journalist in the Middle East on the closing Cedars of Lebanon and a dying soldier in Afghanistan on White as Snow. While it isn't as radical as Achtung Baby (1991) or as surprising as the Passengers project, this CD has more ambition than the mainstream How to Dismantle an Atomic Bomb (2004) and All That You Can't Leave Behind (2000). The Irish group is like a carmaker that issues a new model every few years with a couple of tweaks designed to lure you back. When you look closely it isn't radically different to what came before.

Unknown Caller has the sort of delay pedal that The Edge used around the time of The Unforgettable Fire in 1984. But U2 remains a force to be reckoned with. Breathe is an old-fashioned, solid rock track with explosive guitars and Bono scattering lyrical shrapnel: "16th of June, Chinese stocks are going up / And I'm coming down with some new Asian virus ... Doc says you're fine, or dying." Wow.
Follow Emirates 24|7 on Google News.