'We have become intolerant of religion'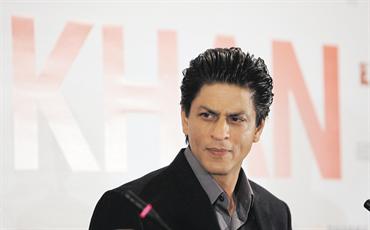 It certainly has been a tough week for Indian superstar Shah Rukh Khan. Controversy regarding comments he made about next month's Indian Premier League Twenty20 tournament have overshadowed the release of his latest film, My Name is Khan, which is out today.

At the time of going to print, The Associated Press reported that more than 1,100 Hindu nationalists were detained by police in Mumbai after mobs tore up movie posters, stoned a theatre and threatened to disrupt the opening of the movie.

The Shiv Sena, a Mumbai-centered political party known for regional chauvinism and fundamentalism, has branded Khan – a Muslim – a traitor for expressing regret that no cricketers from Pakistan – considered India's arch-rival – were chosen to participate in next month's IPL Twenty20 tournament.

As a result of the incidents in Mumbai, it was revealed that 21,000 police officers would guard more than 60 cinemas in the city planning to screen the film and movie-goers would be frisked before entry.

Understandably, Khan is shocked by the criticism he has received. Currently in Abu Dhabi for the premiere of My Name is Khan last night, he admits it is one of the most controversial incidents of his long career. Emirates Business met the actor to find out more about the film and to separate fact from fiction regarding that incident.


Tell us more about My Name is Khan. What's the film about?

The film deals with three issues. Firstly, it is a love story of how lives of ordinary people can be affected by extraordinary events, so we need to be aware of the fact that anything in this world that happens – good or bad – doesn't mean we are untouched by it. Our lives can be thwarted or we could gain a positive effect out of it. My character is a man who cannot think typically like other people. He's afflicted with Asperger Syndrome. So he is less than ordinary, doing ordinary things, but then coming out extraordinary. It is a message to people that you don't need to be doing super-heroic things in order to become a superhero, as long as you're humane and good… basically what we have been taught from childhood but forgotten along the way.

And the last part is that somewhere it touches upon the way we've started looking at each other's religions, and how we have become intolerant of them. I guess it's a duty that if I have to discuss your religion with you, I have to know it. If I don't know it, it's your duty to tell me so I form a proper perspective about it. I truly believe all religions are disciplines for good life.

The film has obviously been overshadowed by the current events happening in Mumbai. With different media reporting different stories. What actually happened?

I have no idea. I just said that I am pro-relationship with every nation, which I think that every person and every nation says. It's really nice to have good relations with everyone. My logic is that if you have done a bad thing to my country, I cannot just group the whole country – and that's what this film is about. There are good people and bad people.

There are no good religious people and bad religious people. There's no good people from one country, and bad people from another country. You cannot group people because of the acts of a few. But that's what happens in the world unfortunately. For instance, some say that all Muslims are terrorists and people are quick to jump on that, but it's not true really. And similarly, it is happening in my country. But in sports, culture and the arts, I feel you don't need to bring in these differences. Yeah, maybe they don't bring countries together, but they shouldn't further separate them either. It gives you a platform – however, small it is – to mend some fences. And that's all I said. But it seems that it has been taken the wrong way.

How have the current events affected you?

I am 44 years old, and I like to believe that, rightly or wrongly, there has never been any kind of religious stress or profiling from me in my country. But having said that – and the film also shows that – we don't have much tolerance towards each other. We've got to believe things can be worked out if you understand a point of view – exactly what we want in the film to be told is happening time and again, and strangely, regarding the film's content, we've been so careful not make it controversial, and we still haven't been able to avoid it.

This is perhaps the biggest controversy I have had in my 20-year career, and I hope it passes over.

My Name is Khan has been confirmed as the widest release of a Bollywood movie, showing in 65 countries in the next five months. Its premiere took place in Abu Dhabi. What attracted you to the Middle East?

I am always very thrilled to come to this part of the world. I think it is very cosmopolitan – there are a lot of people from everywhere, and everybody has open arms for investments, infrastructure, tourism – just coming and earning a living and having a great life. They're developing so fast. And I get to see a lot of familiar faces here – from all over the sub-continent – and you realise that the boundaries are falling.

In this part of the world, the business of Indian cinema has always been fantastic. For example, one of my films, Rab Ne Bana Di Jodi, did extremely well over here. So you feel that you owe it to the place if it is giving you so much great feedback in your work. The Middle East has been good for Indian cinema. As an Indian filmmaker, my dream is that Indian films be watched all over the world. And the UAE is a good place to start off, and from then on go to the rest of the world – Southeast Asia, London – these are big hubs for the Indian film industry.

You always feel that you have your own kind of people here, and the other people who know the culture of your cinema. So they will maybe take to our films, and then maybe this film will become even more important because it deals with Islam. The Emirate of Abu Dhabi and ImageNation have been very gracious to us.


Kajol is as fresh as ever

My Name is Khan sees the return of one of the most successful Bollywood teams: Shah Rukh Khan, actress Kajol and director Karan Johar.

Asked about their chemistry, Khan revealed that it is their friendship that makes them work so well together on screen.

"We have a huge amount of confidence in each other's abilities," Khan said.

" Karan and Kajol are very hard working – whereas I am just very talented and good looking!" he jokingly added.

"As for Kajol and I, both of us have matured as actors, but she hasn't changed. She still has this outstanding quality where she only delivers scenes when she believes in them – she still has that rawness, which is very refreshing to see when you have been in the industry for so long."
Keep up with the latest business news from the region with the Emirates Business 24|7 daily newsletter. To subscribe to the newsletter, please click here.
Follow Emirates 24|7 on Google News.