Will Morey's trading be rewarding?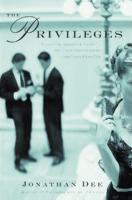 Adam Morey is an impatient young private equity honcho. He's getting rich, but not fast enough, and he's tired of waiting for his boss to decide how much money he's worth. So he turns to insider trading.

In The Privileges, novelist Jonathan Dee succeeds at the difficult task of making Adam sympathetic – if you don't think about it too hard.

The book opens with Adam's wedding to college girlfriend Cynthia, and it's a 27-page tour de force, swooping in and out of the thoughts of everyone from the wedding planner to the maid of honour.

Cynthia comes back from their honeymoon pregnant, and the Moreys embark on lives as moneyed Manhattanites. Adam quickly becomes heir apparent at his private equity firm. Cynthia shuttles their children, April and Jonas, to the prestigious Dalton School, where the other moms hate her for being so much younger than they are.

The Privileges feels very of-the-moment during this time of financial instability, but it's set during a featureless present.

Unlike those other Jonathans – Franzen, Lethem and Safran Foer – Dee doesn't drop pop-culture references.

That fits the Moreys' sensibilities: They live in an eternal now. The most highly evolved people were the ones for whom even yesterday did not exist, Adam thinks. And if it's good to live for today, tomorrow will be even better – which is where the insider trading comes in.

Adam knows he'll get rich from his day job, but why wait? He wants to seize his own future and drag it into the present, so he jumps on the opportunity when he connects with a stockbroker at a party. Adam provides information and the broker trades on it, using a web of friends and small bank accounts.

It's hard to think of another writer who would present a scheme such as Adam's and let him get away with it, but this isn't a morality tale. Dee is more interested in figuring out what makes people such as Adam and Cynthia tick than in seeing them punished for their transgressions.

Dee's a sharp observer of everything from the joy and tedium of raising small children to the vulgarity of newly-built mansions. Here he is on Adam's boss's house in Connecticut: "The house was so self-absorbed that it could have sprung fully formed from the head of Sanford's awful wife; still, the arrogance required to raze whatever must have been here before in order to erect this monstrosity precisely where it didn't belong, was kind of impressive."

Just like Dee's ballsiness at taking the people who would have been the villains of most books and making them his heroes.


- The Privileges. By Jonathan Dee. Out now in UAE bookstores for Dh95
Keep up with the latest business news from the region with the Emirates Business 24|7 daily newsletter. To subscribe to the newsletter, please click here.
Follow Emirates 24|7 on Google News.