Will Smith bridge the gap?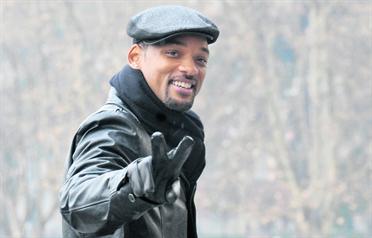 As the highest-grossing star in Hollywood last year, Smith has the world's attention on him. Dressed for the interview in a sky blue V-neck sweater with a white shirt and a blue tie and diamond studs in both ears, he talks about the challenges of being a producer, about his Middle Eastern distribution deals aimed at the region's 300 million Arabs – and his new film, Seven Pounds, released this week.

Your company, Overbrook Entertainment, has struck a deal in the UAE – is that to distribute movies or make movies here?

Well, for me it'll be laying a conduit between the Muslim world and the west. It's a perfect opportunity. I believe that a large part of why Barack [Obama] is in office has to do – and they're not getting credit – with MTV.

Can you elaborate on that?

What MTV did is laid a conduit between the inner city, the suburbs and between American kids and the world. You can't tell a 15-year-old white kid a lie about black people. They know it's not true. Whereas their parents and grandparents you could feed any kind of misinformation that you wanted to because they didn't have the connectivity. The artistry, what MTV was able to create in connecting kids of just all races, creeds and colours was able to release and relieve the fear that comes when you don't know. So for me, in my mind, the deal we're making in the UAE is going to lay that type of artistic conduit between the west and the Muslim world.

You've talked a lot about Barack Obama. Would you take some sort of emissary or goodwill ambassador if asked?

Goodwill. I like that. Barack being elected did something. I was crying uncontrollably. It so validated something that I believed for a long time. It's like as a black man in America, I've never been able to say out loud, 'You know, ya'll, I don't think America is a racist nation. I think there are racist people who live here, but I don't see America as a racist nation.' Barack's being elected validated something inside of me and now I'm allowed to say that out loud. Earlier, it was like you're an Uncle Tom if you said that. 'You know, the white man got you brainwashed.' Now I just feel so free, like I've been unleashed to say things and do things the way that I felt for such a long time. It's like a cycle of African American citizenship has been completed with this. So I'm just hyped. I'm hyped.

So are you going to play Obama in a biopic?

I would love to. He just wrote a fantastic end to the first movie. So I'll be looking to do it when he's out of office in eight years.

You've been called the biggest movie star on Earth a lot recently.
Wow.

How's the view from there?

I remember reading of this mountain climber who set his mind on climbing Everest: 'I'm going to do it. I'm going to do it.' But once he got to the top and realised he couldn't breathe, his only thought was, 'How the hell can I get down off of here as fast as I can?' It's this weird thing that kicks into your mind, like, 'Be careful what you wish for'. You fight and fight to get there and there's this discomfort that sets in. It's really the last, probably year and a half, that have been kind of scary and a little bit frustrating for me. But I had an epiphany after working on Seven Pounds – I realised I was looking at my life and myself and my future too much around these movies. I realised how much more I want to be and do and the idea of living in service to humanity versus living in service to the commerce of my movies. However people look at me, as a movie star or not, I want to be remembered as a man who cared about people and dedicated his life to making the world better. So with that I went from thinking of myself in this high place, to 'Damn, I got so much to do. I need to get to work.' That's so much better of a place for me emotionally.

But aren't you just dad and Will at home with the family?

I know, right? I'm just some dude at the dinner table.

So you want to make message movies now?

Not message movies, but with Seven Pounds I was attracted to this not because there was a fantastic one-liner that I could sell around the world easily, but because there were ideas and emotions, there were parts of this character I was hiding myself from.

So I took it almost as a self-examination, a self-exploration. Jada [Pinkett-Smith, Smith's wife] said something to me a few months ago. I was rejecting this character and she said, 'It's funny how you're doing that. You know that you are Ben, right?' She said, 'The reason you're so nice and the reason that you fight so hard to be up tone is because you're at war with that guy inside of you.' I was like, 'Damn, deep lady.' The projects that I was choosing, everything had to be okay in the end or it emotionally hurt me. So now my sensibilities are becoming less delicate and I'm able to venture out a bit more into the world of emotional and artistic ambiguity in a way that strikes me as more authentic, but is terrifying for me... If there's a movie in my career that I would say changed my life it's Seven Pounds.

Not Independence Day?

Not Independence Day. I mean, when I punched that alien and said, 'Welcome to Earth', that was huge.

In your interview with Barbara Walters you said the only racism you've experienced was the racism of Hollywood in regard to casting you opposite a black woman. As a producer, how are you changing that?

I think that's something, and it's interesting – I've never liked the racism. There are so many connotations that go with it, but basically, if you put 10 black artists in a room and we come up with something, it's going to be about black people, right? It's not necessarily racism in the studios and things like that, but it's just that the majority of the creative people are of certain background and so that's what they produce. It's more our responsibility to be able to show how it could be different, to show how Set It Off could work for a mass audience. We can't expect other people to create our stories. At Overbrook we did The Secret Life of Bees in 2008, we did Lakeview Terrace. We have a black president now, so we have no more excuses [laughs].

What are you doing next?

I'm currently unemployed. We're looking at a lot of things. I've no idea.

There's a lot of talk about doing a sequel or a prequel to I Am Legend.

We have a fantastic prequel idea – essentially, it's the fall of the last city. The last city being Manhattan. Within the body of the movie it would be Washington DC and then Manhattan would fall as the last city. It's a really cool idea.


World ambition

Actor-producer Will Smith's Overbrook Entertainment teamed with Diana Jenkins' D Media to launch distribution company Red Pearl pictures in December last year, Hollywood trade magazine Variety reported.

The new company is to have offices in the US and the Middle East. Overbrook, also part owned by Smith's long-time business partner James Lassiter and celebrity agent Ken Stovitz, is keen on expanding outside its home territory. It signed deals with Ronnie Screwvala, chief of top Indian studio UTV, as well as with Sony, to produce films for the Indian market.

"Stallone, Schwarzenegger and Bruce Willis were the first people who explained it to me," Smith said. "Arnold said, 'No matter how big your movies are in America, you're not a star until your movies are big around the world."

Overbrook was formed in 1998. Jenkins, the Bosnian-born wife of Barclays Bank's Roger Jenkins, is based in Malibu and is a partner in swimsuit company Melissa Obadash. (Keith J Fernandez)
Follow Emirates 24|7 on Google News.